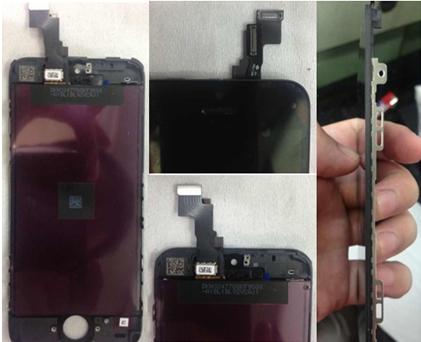 A number of
earlier leaks
showed a few of the parts of what was purported to be Apple's iPhone 5S, and as the smartphone enters the home stretch -- it's rumored to ship in the August / September timeframe -- a new set of images showing the display assembly of the iPhone 5S
emerged on Monday
.
Notably, these leaks thus far have centered on internals, and this one is no different. Considering that the iPhone 5S is expected to look much like the iPhone 5 externally, it's not really an issue. These leaks of internal parts, though, enable us to get a better picture of what Apple plans in terms of internal improvements for the device.
The images, shared with MacRumors by repair firms -- which often get an early look at iPhone internals via replacement parts -- showed the display assembly of the iPhone 5S. The new image followed Monday's
similarly leaked logic board image
.
The two leaks actually support each other, due to a pair of connectors on each part. While both the iPhone 5 and 5S display assemblies contain a pair of connectors on flex cables at the top, for supporting the display itself and the digitizer for touch input, the are oriented differently.
In the iPhone 5, both flex cable connectors are oriented horizontally and correspond to horizontal connectors on the device's logic board. On the purported iPhone 5S display assembly, one connector is oriented vertically and the other horizontally.
This matches the logic board image, which has its corresponding connectors oriented in a matching manner.
These are, of course, just rumored parts and even the iPhone 5S name is just a rumor. Still, analysts expect the iPhone 5S to be largely identical externally to the iPhone, with modifications internally to improve performance or add features.
There have been rumors, though, stating that Apple will also introduced as lower-cost iPhone this year, and two larger-screened -- Samsung-sized, in fact -- devices
next year
.
We'd expect the leaks to continue: Many details on the internals of the device remain to be leaked. The logic board, for example, didn't contain any supporting chips or other components.
We'd expect, as well, that the iPhone 5S won't be much of a secret when it launches. Last year's run-up to the iPhone 5 showed that leakers are getting far, far better at obtaining parts and cases for upcoming Apple products, despite the firm's famous secrecy.