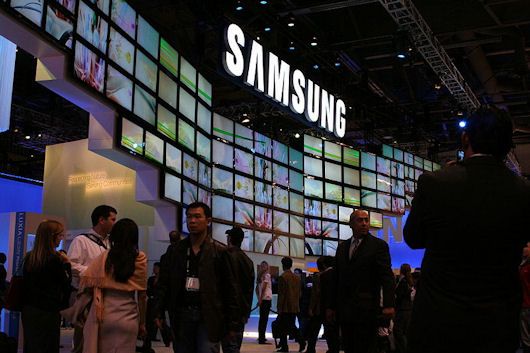 It's good, but investors might not think it's good enough. Samsung -- Apple's biggest single rival among smartphones and tablets --
released first quarter guidance on Wednesday
, saying it expects to book net income of $7.7 billion for the quarter of 2013, a 53 percent increase year-over-year.
A full earnings report will be released later this month. While the numbers are better than many analysts had forecast, they are a slight decline over Q4 2012, when the company posted a record $8.3 billion in operating profit. While impressive, the guidance means Samsung expects to break its string of five consecutive quarters of record profits.
The first quarter had been expected to be a slight downer for the Korean giant, as sales slow before the much-anticipated release to retail of the Galaxy S4 later this quarter. In terms of U.S. sales, AT&T has said that pre-orders for the GS4 will start on April 16. T-Mobile has said that the GS4 would be available on May 1, though it's still unclear if that means in retail or via pre-order.
Based on historical sales of Galaxy S devices, Samsung and analysts expect huge sales of the company's new flagship phone.
The Galaxy S4 dimensions are 5.46 inches x 2.75 inches x 0.31 inches; it weighs 4.6 oz., so despite increasing the screen size from 4.8-inches to 5-inches, the device is actually slimmer and thinner, yet only 0.8 inches longer.
The near 5-inch screen comes in at 1,920 x 1,080 pixels for a pixel density of 441 ppi. Compare that value to the 326 ppi of the iPhone 5 Retina display.
Samsung was said that the processor would vary from region to region, something that has been expected. The U.S. version will sport a quad-core Snapdragon CPU clocked at 1.9GHz. Samsung didn't elaborate on the exact version of the processor, but most believe it may be the Qualcomm Snapdragon 600. The Asian and European versions will sport the long-awaited Samsung Exynos 5 Octa eight-core processor.
Meanwhile, the device will ship with 2GB of RAM, a 2600mAh battery, and 16GB, 32GB and 64GB versions, with the requisite microSD card slot. It will also have wi-fi, Bluetooth 4, an IR blaster, and NFC. As expected, the rear-facing camera is 13MP and the front-facing camera is 2MP.
The Galaxy S4 also includes a dual-shot mode, which lets you use both the front-facing camera and the rear-facing camera at the same time, for both recording and still captures.