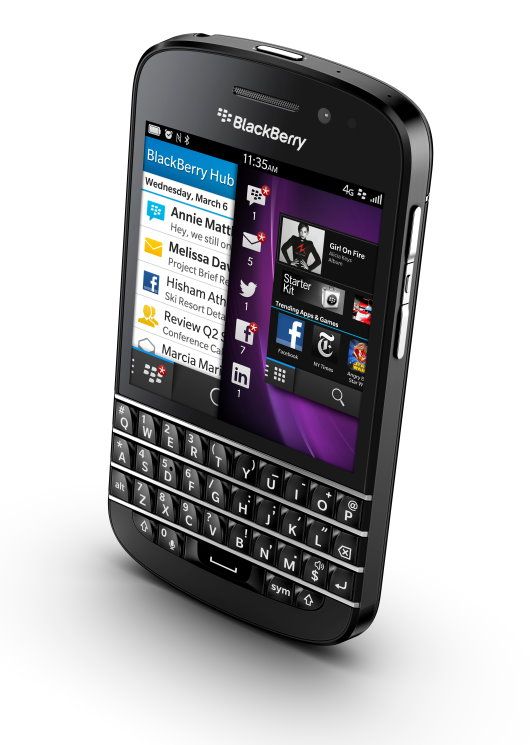 When BlackBerry (nee RIM) launched its BlackBerry 10 OS along with its BlackBerry Z10 and Q10 devices last week, it said the Q10 -- the keyboarded version -- would arrive beginning in April. However, the CEO of BlackBerry hinted in an interview
released on Tuesday
that the Q10, which some diehard BlackBerry keyboard lovers are looking to for their BB10 fix, may not arrive for a month or two behind other parts of the world.
During the BB10 intro, BlackBerry -- which simultaneously announced a name change from Research in Motion (RIM) -- said that the Q10 would be available through some carriers around the world in April, but wouldn't say at the time whether of those Q10 launches would be in the U.S. In the interview, BlackBerry CEO Thorsten Heins said it was up to carriers to do the necessary validation testing and to decide whether they could shorten the process. He added that eight to 10 weeks after the Z10 launch was "a good range" of what to expect in terms of the Q10's arrival.
The Z10 is expected to launch in the U.S. in mid-March. Adding eight to 10 weeks to that date brings the U.S. launch date for the Q10 to somewhere between mid-May and early June.
That could be a bad thing for other reasons than just a delay. Those dates coincide with theorized launch dates for the Samsung Galaxy S IV and the iPhone 5S (or 6).
Heins attributed the delay in a Z10 -- and hence, a Q10 -- U.S. launch to a rather rigid and rigorous testing system that the U.S. carriers have. The Z10 has already launched in a number of countries, including the U.K., Canada, and some parts of Europe.
We need to respect that [the testing process]. Am I a bit disappointed? Yeah, I would be lying saying no. But it is what it is, and we're working with all our carrier partners to speed it up as much as we can.
BB10 is seen as perhaps the company's last-ditch chance to regain relevance. In particular, and despite the delay in the U.S. Z10 launch, Heins noted that the U.S. is pre-eminent in the company's plans. BlackBerry has to regain market share in the U.S., he said, for the company to be successful again.
The word "again" has to be strongly emphasized. Since the introduction of the iPhone and Android, BlackBerry has seen its U.S. fortunes decline sharply. According to market research firm IDC, the U.S. market share of BlackBerry phones plunged from 46 percent in 2008 to 2 percent in 2012. The iPhone and Android now dominate, as they do globally.