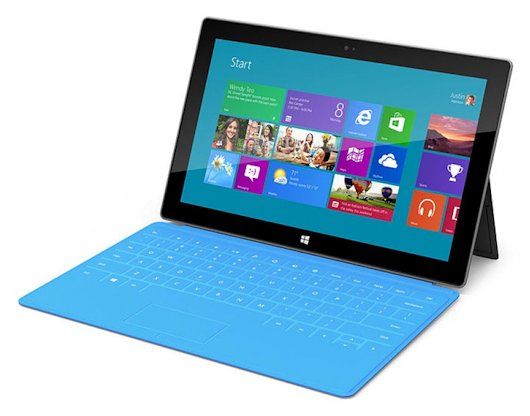 iFixit, famous for its teardowns of Android, iOS, and other mobile devices has taken a screwdriver to Microsoft's Surface Pro. The results,
released on Wednesday
, are interesting, and show why the first-generation of many devices should be eschewed.
Although the Surface Pro tablet is a nice tablet, which runs Windows 8 Professional and is thus a full-fledged Windows computer, the teardown made by iFixit shows a lot of limitations of current hardware. Some of these have been seen externally already; for example, the device's weight and thickness when compared to Android tablets and iPads. Some couldn't be seen until the Surface Pro was torn apart.
And torn apart is an accurate description. iFixit discovered that there are more than 90 screws in the device, and that a careless users could destroy the tablet just by opening it, as there is a high risk of cutting a critical wire. Furthermore, the display assembly is extremely difficult to remove and replace.
It's a sticky situation: there is also a lot of adhesive used in the tablet. As iFixit wrote:
We tried every method we could think of to free the screen, including cutting the adhesive, to no avail. This Pro requires a pro method. Luckily, we have one: we call it the Heat-It-Up-and-Poke-It-Til-It-Does-What-We-Want method. Luckily, we have the required heat gun and guitar picks ready.
Once they managed to rip the tablet apart, they discover some interesting hardware.
For example, the SSD is a rather unremarkable Micron RealSSD C400. Meanwhile, the Surface Pro's battery is an LG-manufactured "Escalade" lithium-ion unit rated for 7.4V and 5676mAh, which is about the same size in terms of Watt hours, but produces a lower voltage, which shows what a battery hog the Surface Pro is, as Microsoft says it has a maximum of five hours of runtime, despite the CPU being a low-voltage Intel Ivy Bridge i5-3317U with 17W TDP.
iFixit noted that the Microsoft Surface Pro Repairability Score came in at a low, low one out of 10 (10 is easiest to repair). Arguably, only an extreme minority of users would even think of tearing apart the device, but still ... compare this to the Repairability Score of the first-generation Kindle Fire, which iFixit found to be extremely easy to work on, and came in at 8 out of 10.
Ironically, the prior record holder for worst repairability is the tablet that Microsoft is targeting with the Surface Pro, the iPad. The iPad 4 scored at a two for repairability.