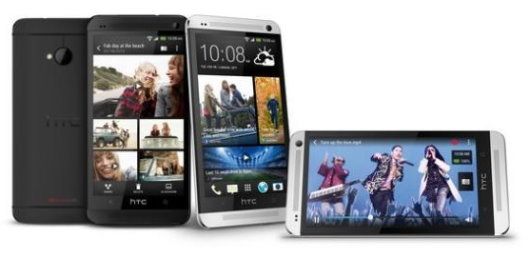 On Tuesday, as expected, HTC -- in simultaneous events in London and New York --
launched its new flagship phone
.
As it had vowed in 2012 when it said it would simplify its product lineup, the company launched a single "One" smartphone, rather than the X, S, X+ "One" phones of the past.
The company said that its One will be in the product catalogs of 150 wireless service providers, including AT&T, Sprint, and T-Mobile USA in the U.S. Notably absent from the list of U.S. carriers is Verizon, but Verizon passed on 2012's One series, too.
Verizon recently introduced the HTC Droid DNA, and may adopt the One when it clears out some of that inventory.
The device certainly displays its flagship status -- it sports a 4.7-inch 1080p Super LCD 3 Gorilla Glass 2 display. The device slots in at 468 dpi, which is greater than the Retina iPhone display; Apple which claims 326 dpi for its iPhone 4 through iPhone 5 models.
Also included is a 2,300 mAh embedded battery, a 2.1 megapixel front-facing wide-angle camera, and a somewhat down-specced 4-megapixel rear-facing camera which HTC alled UltraPixel. Much as Apple did when its 5-megapixel iPhone 4 camera was compared with the 8-megapixel cameras of other devices at its intro, HTC is claiming that less is more, and that the UltraPixel Camera will produce better images.
HTC's new camera will sport a new features the company called "Zoe." It is actually a four-second video combined with simultaneously-shot high-quality still images. The camera uses buffering to begin the Zoe one second before the user presses the button. Somewhat like Twitter's new Vine, Zoes can be shared on YouTube, Facebook, or on HTC own servers, but be warned -- HTC will only store them for 180 days.
Don't expect a polycarbonate shell, though; the 2013 HTC One comes with a machined aluminum unibody made using what HTC called "zero-gap construction."
The One (which makes us think of "
The Matrix
") is also one of the first smartphones to carry Qualcomm's quad-core Snapdragon 600; clocked at 1.7GHz, the One also sports 2GB RAM.
Consider it a revival of the old CPU battles that used to take place on laptops and desktops. Samsung's Galaxy S IV, which is expected to be unveiled on March 14, is expected to carry Samsung's own eight-core Exynos 5 Octa processor, and 2GB of RAM, as well.
Expect another Beats audio implementation, and the company has even added dual front-facing speakers with a dedicated amplifier to the One. This feature it calls "BoomSound," with Jonah Becker, HTC design lead, noting during the New York event that BoomSound speakers are designed for when people are watching videos on the One.
Software-wise, the One will come with Android 4.1.2 (Jelly Bean) and HTC Sense 5. The new Sense implementation eliminates the well-known retro flip-clock and other widgets for a more modern look. The One's home page features HTC's new "BlinkFeed," a Flipboard-like collection of social media updates, news, images, and other shared information that an end user can scroll through.
Once a leader among Android phones, HTC has seen its market share droop in the wake of rivals such as Samsung, currently the biggest cell phone and smartphone OEM in the world. The 2012 One series was applauded by the media, but lost out to other devices, including the Galaxy S III and the iPhone when it came to the opinion that really counts, the consumer.
The One is expected to similarly gain critical praise, but consumer judgment remains a question, and with the Galaxy S IV rapidly approaching, HTC has a tough hill to climb.