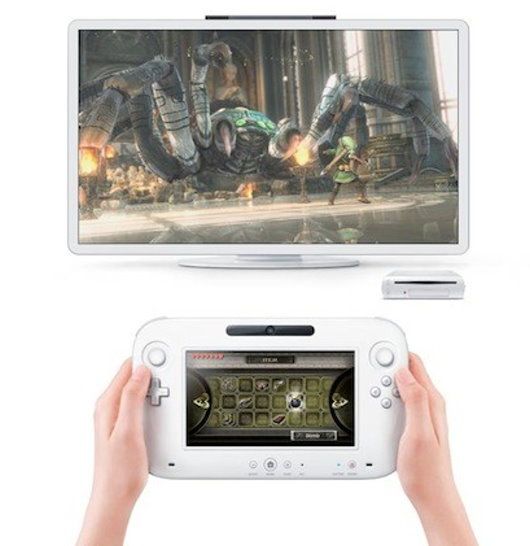 Although the launch of iPhone 5 is probably the most highly anticipated
device introduction of the year
,
there are other things that folks are lusting after. One of them is the next-generation Wii U gaming console, and on Thursday, at a New York City press conference, Nintendo announced the device's launch and pricing: on Nov. 18 in North America, with prices starting at $299.99, and on Nov. 30 in Europe
There will be two models of the gaming console. The "Basic" version will sell at the $299.99 price point, and consists of a white, 8GB Wii U console, a gamepad, AC adapters, a sensor bar, and an HDMI Cable.
Meanwhile, the "Deluxe" version will run $349.99, and includes all of the above, but in a black, 32GB console, along with charging cradles and a free copy of Nintendoland. In addition, the "Deluxe Edition" includes the Deluxe Digital Promotion, which earns online shoppers rebates for downloadable Wii U apps.
In Europe, pricing will vary from region to region, and at this point the price points are mostly unknown. Micromania France is the only major retailer to announce prices at the time of this writing, stating that the Basic console will run €299.99 and the Deluxe €349.99.
The Wii U was first announced in April 2011 and was first
showcased at E3
,
that same year. Just as with the Nintendo Wii and its innovative Wii Remote (AKA the Wiimote), Nintendo is adding some landmark features. Among them is the 6.2-inch, 16:9 aspect ratio, single-touch LCD touch screen controller the company calls the GamePad. At this year's E3, Nintendo stated that the Wii U would support up to two GamePads, in addition to four Wiimotes.
Nintendo's last game console, the Nintendo Wii, was released on November 19, 2006, priced at $250. The Wii was the first Nintendo console to sell for over $200 in the U.S., but was still priced lower than the Sony PS3 and Microsoft Xbox 360. Those consoles, though, have much higher hardware specs than the Wii.
In addition to releasing dates and times about the console in general, Nintendo also released more information about the Wii U's new TV features (TVii). First unveiled during E3 2012, the functionality includes a built-in DVR powered by TiVO, and search functionality that works with Netflix, Hulu Plus, Amazon Instant Video, and cable TV.
The company also released brief demo video, embedded.