What good is it to appear naked in a "naked body scanner" if it doesn't work to increase security. A blogger, who admittedly has a bone to pick with the TSA and its scanners, says he has found an easy way around them.
Engineer Jonathan Corbett, who runs the blog
TSA Out of Our Pants
, says the flaw exists because the scanner uses dark colors to highlight potential threats like weapons or explosives. Yet, the scanner also uses a dark background, as seen in the image above.
He explained, "Again that's light figure, black background, and BLACK threat items. Yes that's right, if you have a metallic object on your side, it will be the same color as the background and therefore completely invisible to both visual and automated inspection."
If you think about it, it makes sense. IF the object was side-on to the scanner, and on your side, you can imagine, looking at the image above, that it would be "invisible." Corbett said he was able to sneak a metal carrying case through Fort Lauderdale-Hollywood International Airport and Cleveland-Hopkins International Airport.
It does smake sense BUT it's also true that the TSA has been replacing the original and oft-criticized full body scanners
with new ones
that not only don't depict a person's body in such graphic fashion, but don't use a black background, either (below)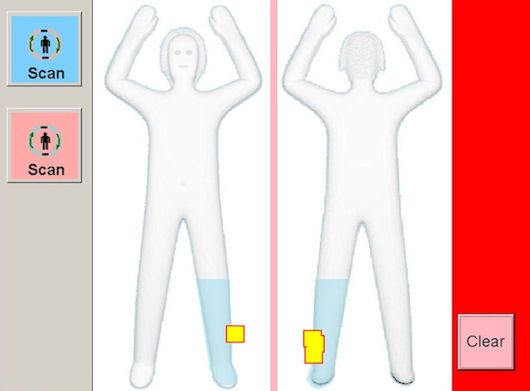 Aviation security expert Philip Baum
admitted
that "Pretty much every system, you can fool." However, Russell Craig, a spokesman for the U.K.'s Manchester airport called the test flawed. "He's taken a small metal tin through. And the guards are looking for a threat object. That's not one. It's not a valid test. To say this shows it undermines airport security technology is totally wrong."
Corbett was among the first individuals to sue the TSA over the scanners, which began appearing in airports in 2010. That suit was dismissed earlier this year, but he filed another lawsuit on 21 additional counts, including violation of the Civil Rights Act, false arrest, infliction of emotional distress and conspiracy.
Watch Corbett's video, below.