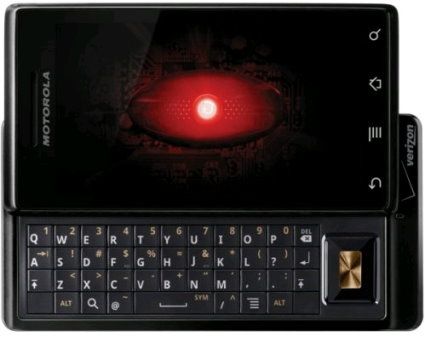 Verizon's upcoming Droid phone, its first smartphone based on Google's Android platform, has received a date, a price, and some exciting news, as well. The date is Nov. 6th, the price is $199 (after $100 mail-in rebate), and the exciting news is that it will be the first device to have Google Maps Navigation, providing turn-by-turn voice guidance.
The Droid phone has been the subject of a heavy-duty Verizon ad campaign, including one snarky ad that points out all the things that iCan't do (meaning the iPhone can't do) that the Droid can do.
While the iPhone is obviously still the device on many people's minds, the Android platform, which started slowly on the T-Mobile G1 (and little else) is gaining rapidly, at least in terms of device announcements. The Droid phone is the first Android phone which truly has a chance to be a serious contender as an "iPhone killer."
However, the iPhone has cult status still, and 75,000 more apps (and counting) than Android does. While the iPhone is in no real danger of being "killed," but rather is a solid threat to take eventually become the most popular cell phone globally, taking market share away from Nokia and BlackBerry. The Droid phone and its upcoming Android siblings have an excellent chance of taking a a lot of market share as well.
The key is that most of these mobile platforms are now on par with Apple's iPhone. The iPhone is no longer head-and-shoulders above the pack, except in terms of numbers of applications. The Droid phone and other Android devices, and Palm's excellent but struggling webOS are solid competitors in terms of features and performance.
Watch the Droid phone ad below: