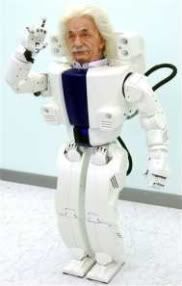 Kansei was the first robot I
wrote about
with a sense of emotion, but last week at the Technology, Entertainment and Design (TED) 2009 conference, the fourth version of an Einstein robot was unveiled. This version exhibits empathy by being able to interact with people using smiles, frowns and eye movement.
The joining of the hardware and software didn't occur until two weeks ago. Basically, the birth of empathic Einstein occurred then, with the bonding together of software created by the Institute for Neural Computation at the University of California in San Diego with the hardware created by Dallas artist/roboticist, David Hanson.
As I said, this is the fourth generation of the robot. As Hanson told the crowd at TED as he introduced the robot:
"It's machine empathy. This is a robot that can understand feeling and mimic it."
Some of the same computer techniques were used in the film, "
The Curious Case of Benjamin Button
." The movie's digital visual effect producer, Ed Ulbrich, demonstrated how Brad Pitt's expressions were imposed on a computer-created version of him as an elderly man at TED 2009. He said the procedure involved 155 people.
This is the true theory of relativity, eh? Robots relating to people.
Watch a video of an earlier version of the same robot, by David Hanson.