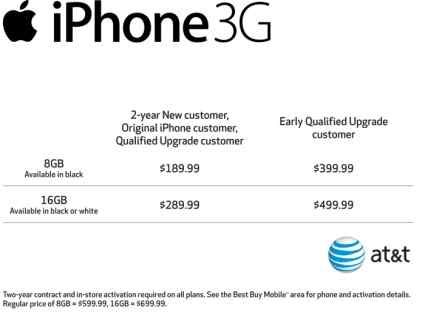 Best Buy effective Friday cut prices for the iPhone 3G by $10; the 8GB model is $189.99, and the 16GB model is $289.99. In addition, Best Buy is also offering double Reward Zone Points which work out to about $10 for the 8GB and $15 for the 16GB. Hey, money's money (though the Points only matter if you shop at Best Buy a lot).
There's some slight argument about how long the sale lasts:
Barron's
(old media) says it lasts until Dec. 31st, while
Boy Genius Report
(new media) says Jan. 3rd. I'll go with new media, considering BGR has some screenshots that validate their date (click above to enlarge).
Two-year contracts are required (of course). A bonus named by BGR is that a Best Buy employee will also setup your iPhone with one personal email account. For that I say: whoopee.
Considering Best Buy was trying to
sell things
Apple Stores do for free when they first started selling iPhones, I'm not impressed by the setup offer. Still, $10 is $10. Heck, in California, that's at least $10.80 with tax.