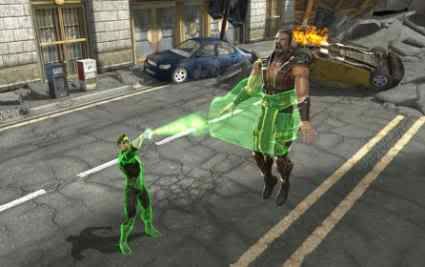 Unlike many of my friends, as a kid, I tended to read DC Comics, rather than Marvel Comics. Why? One of my favorite characters was
Green Lantern
(
GL
). Despite the fact that, at the time, Marvel Comics stressed topical issues and angst among its publications, the DC Universe still grabbed me because of
GL
,
The Flash
,
Superman
and
The Batman
.
And I'll be honest: if it wasn't for the fact that comics would take up way too much of my time --- and money --- I'd probably still be reading
GL
(problem is all the crossovers would mean I'd be reading other comics as well).
For a shorter period (I eventually became bored with it),
Mortal Kombat
's Universe also had me under its spell. It had its own mythos, including
Scorpion
,
Sub-Zero
,
Liu Kang
,
Sonya
and more, and what game player didn't enjoy the
Fatalities
?
But I never expected a crossover between the two universes. Until Sunday, when Midway Games Inc. announced that Mortal Kombat vs. DC Universe has finally arrived on store shelves.
Unfortunately for PC gamers, it's a PS3 / Xbox 360 release only. MSRP is $59.99, with the Kollector's Edition priced at $69.99.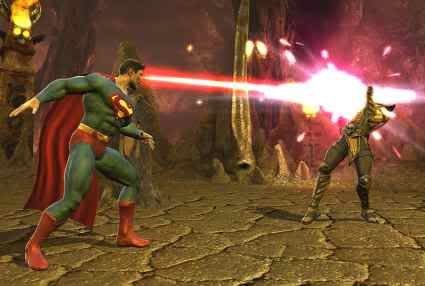 How do DC Universe characters end up fighting
Mortal Kombat
characters? Simple: parallel dimensions, corrupt boom tubes (the
transportation system
used by characters of New Genesis and Apokolips in the DC Universe), blah, blah. It all makes sense, right? The characters you can play as are listed below.
Mortal Kombat vs. DC Universe

Scorpion
The Joker
Sub-Zero
Catwoman
Sonya
The Flash
Shang Tsung
Superman
Kitana
Batman
Jax
Wonder Woman
Liu Kang
Deathstroke
Raiden
Lex Luthor
Kano
Captain Marvel
Baraka
Green Lantern
Shao Kahn
Darkseid
Midway toned down the violence and achieved a "Teen" rating for this game. After all, associating with DC Comics heroes, you'd have to figure there'd be some changes made. And one is that, while
Mortal Kombat
characters and DC Comics villains can all do fatalities, DC Comics heroes can only do "Heroic Brutalities." Let's not forget that Superman has vowed to never take a life, after all.
One fear I had when hearing about this game was that all they'd do was basically swap characters and the DC Comics characters wouldn't get individualized moves based on their actual powers. That doesn't seem to be the case, as evidenced by the screenshots above.
There's an arcade mode, which is much as you would expect, and a story mode. One half of the story mode focuses on
Mortal Kombat
and the on the DC Universe. Each half has multiple chapters, with each chapter having you play as a different character. Heroes (and villains) try to determine what the comic book-ish writers have gotten them into.
Sounds sorta
Crisis on Infinite Earths
-ish, does it not?
In their
press release
, Scott Johnson, vice president, business development, Warner Bros. Interactive Entertainment (DC's parent company) said:
"Mortal Kombat vs. DC Universe brings together iconic characters from both the DC Comics' and Mortal Kombat videogame universes to give gamers the opportunity to take part in extraordinary battles. Working with Midway, we are allowing fans to control the destiny of famous heroes and villains with enhanced graphics and combat."
Matt Booty, president and CEO, Midway said:
"Midway is proud to have been able to work so closely with the artists and visionaries at DC Comics to bring you a unique fighting experience that stays true to the hallmarks of the Mortal Kombat franchise. With the broad market potential afforded by the T-Rating, the engaging story mode, the critical acclaim we are already seeing from reviewers, and enthusiastic support of the fans from both franchises, we expect this to be one of our most successful Mortal Kombat games."
So, will this new chapter in the MK gaming universe produce a fatality for the series, a heroic brutality, or just some solid sales? It's likely to garner some interest due to the added characters, but the story mode only lasts about six hours. There's the arcade mode, but that will eventually become repetitive (which is what eventually drove me from earlier MK games). Still, the game will likely be successful, earnings-wise.
Watch some fatalities (heroic brutalities) here: