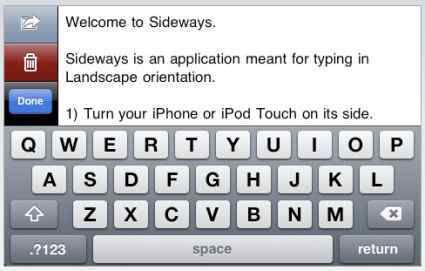 Besides
Copy-and-Paste
, one of the biggest feature omissions on the iPhone is landscape mode for composing emails. It's a strange limitation, as other smartphones that support both portrait and landscape mode support it.
You might think that based on
past rejections
, the App Store might reject any sort of virtual keyboard app, but maybe they just decided to cut developers some slack, or maybe the criticism has gotten to them.
At any rate, Apple saw fit to approve four, count 'em four, landscape mode applications for email today. The four apps are:
They've all apparently been sitting waiting for approval for some time. They were all "released" in late August or early September, with the most recent submission Sept. 11th.
All the above apps work the same: you type the text while in the app, then send the text to the built-in email application. The major complaint I see in reviews of the products: not really a complaint, but a wish ... a wish that they could support SMS as well.
Now, the best thing possible would be if Apple would get a clue and add Copy-and-Paste and Landscape mode natively into the OS. Of course, that would end the lives of these apps, but ...