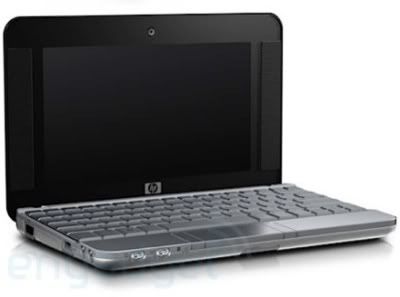 The Asus Eee PC has drawn much attention, becoming so popular other manufacturers are chomping at the bit to get into that segment. Tuesday HP announced the HP 2133 Mini-Note PC, which it says is targeted for the education market, but will most likely reach into far other markets, just as the Asus Eee PC has.
The 2133 needs a shorter name, and a different OS, in my book. It comes with Windows Vista, which really strains the hardware. I'm not sure why HP didn't make XP an option - or even standard.
Prices range from $499 on the low end (with Linux, 400 MHz FSB, 512 MB RAM, 1.0 GHz VIA C7-M CPU) to $749 on the high end (with Windows Vista, 800 MHz FSB, 2 GB RAM, 1.6 GHz VIA C7-M CPU).
The screens are 8.9" diagonally with a 1280 x 800 resolution.
Wireless-N doesn't seem to be an option, but I'm sure you could add in a USB 2.0-based card, if you wanted. Pricing starts to get more "full-sized laptop-ish" if you start thinking of adding in an optical drive.
HP includes something fairly standard for many hard drive-based laptops: a utility (DriveGuard) that ensures your hard drive will remain safe when dropped.
For someone looking for a miniature notebook (and who doesn't care about speed) to take with them on the run, this is a pretty inexpensive and more fully-featured choice than the Asus Eee PC. Of course, it still has tradeoffs.
Check out a couple of reviews
here
and
here
.