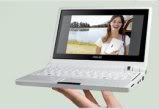 The Asus Eee is a huge success, and as with many successes, people are hacking them --- frequently just to see if it can be done.
While we know that
Microsoft is struggling
to get Windows XP working on the OLPC XO-1, here someone has managed to take Windows Vista Premium and stuff it onto an Asus Eee PC (the 4GB version, unmodified).
Paul O'Brien did this, first using
vLite
(a tool to customize a Vista install prior to installation) to shrink the bloated Vista Home Premium. He put the custom disk image onto a 1 GB USB flash drive. and then booted the Eee from the flash drive, installed and shifted the Side by Side (SxS) \Windows\winsxs directory off the main drive and onto an 8GB SD card, saving tons of space.
In the video below, the Eee actually runs fairly well. On the other hand, for the purposes its really designed for, the Eee certainly doesn't need Vista. Of course, as he says in the video, he did it just to see if he could do it.
Meanwhile, others are trying to get Mac OS X Leopard on the Eee (Tiger has already been installed successfully). More details on the Vista install
here
.
Watch the video: