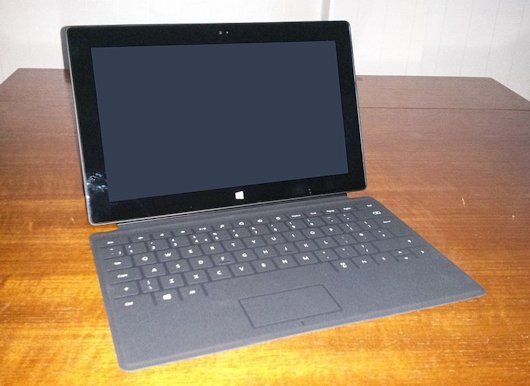 Early adopters of Microsoft's Surface Pro 2 tablets are seething online. Reports that Microsoft is distributing SP2 devices with an upgraded processor -- first reported in a thread on Microsoft's
online support forum
-- were confirmed by the media (e.g.
WinBeta
) on Thursday.
Owners of older devices that are already past the 30 day return window are extremely upset, and it is ironic that the reports seem to have come first in a support thread lambasting the company for the Dec. 10, 2013 firmware update, which adversely affected many SP2s and was eventually pulled by Microsoft.
One lucky owner said:
I returned my Surface Pro 2 (v. 256GB) because of the poor performance after the failed 12.10.13 firmware update. I recall the SP2 I returned having a i5 4200U processor. To my surprise, when I checked the System Properties in the Control Panel on my replacement SP2, the processor was upgraded to a i5 4300U @ 1.9Ghz. - 2.5 Ghz.
Notably, those who purchased the device on the launch date -- Oct. 22 -- are now SOL as the device has been on their hot little hands for more than the 30 day return window.
In other words, early adopters -- including us, in all honesty -- seem to have been shafted by Redmond, and this comes on not just one, but two poorly received patch updates for the tablet / laptop.
Microsoft confirmed the change, saying:
Microsoft routinely makes small changes to internal components over the lifetime of a product, based on numerous factors including supply chain partnerships, availability, and value for our customers. With any change to hardware or software, we work to ensure that the product experience remains excellent.
Interestingly enough,
CPUBoss
gave an overall score of 7.1 (4200) vs. 5.9 (4300) when comparing the two CPUs, but declared no winner. The 4300U, of course, would have higher performance when maxed out, though there are not huge differences between the two. The 4300U, though, seems to have better support for virtualization.
In addition, any early adopter worth his salt would want to be on the cutting edge of a new product for more than two months (which is about how long the SP2 has been around).
This move will create havoc during resale of the devices. For one, Microsoft did not choose to issue a new SKU for the upgrade tablet. That means that when you see one on eBay, the seller either had better point out which CPU his SP2 has, or he will be asked (all right; that's not really havoc).
Truthfully, despite the fact that this is incredibly annoying to many, it does appear that the differences between the two CPUs is pretty minimal. That being said, the words "class-action lawsuit" are already being bandied about, and we wouldn't be surprised to see one.
Remember the lawsuit filed after Apple dropped the price of the original iPhone by $200?
One cautionary note: we are pretty sure that older models with the 4200U CPU are still making their way through sales channels. Thus, if you go to Best Buy or even a Microsoft store, you should open the box and check before walking out the door -- if you care, that is, which CPU you get. Again, this is a pretty mild update.
Also again, though, that's not the point. Early Microsoft hardware adopters will now feel snakebitten. Anyone want to hold off on an Xbox One purchase, just in case?