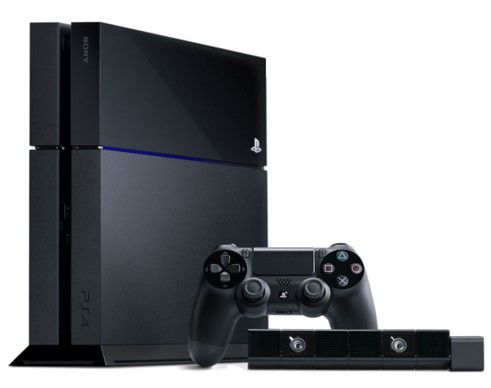 Sony's earlier announcement about retail launch dates for its next-generation PlayStation 4 omitted a region that usually saw the company's gaming consoles first: Japan. That information has now been provided: In a press conference Sony held on Sunday (via
The Verge
), the company said the successor to the PS3 would hit Japan on Feb. 22, 2014, priced at ¥39,980 (about $400 at current exchange rates), excluding sales tax.
The PS4 will arrive in North America on Nov. 15 and in Europe on Nov. 29, meaning that its Japanese entry will trail by about three months, or a full quarter.
When asked why, Sony responded by saying that the delay has been done to ensure that the company can finalize software optimized for the region.
Perhaps as a bonus for its late Japanese debut, the PS4 will be offered in additional bundles not available elsewhere. A package with the PlayStation Camera peripheral, which is not included with the console elsewhere, will sell for ¥43,980 (about $440 at current exchange rates). Another pre-order bundle will include a free downloadable copy of the game Knack and a one-year extension to the console's warranty.
When it announced the PS4 in February, Sony called the video console a "supercharged PC." There is reason to believe that: The PS4 is powered by an eight-core x86 CPU (AMD), similar to Windows PCs, and unlike the PS3's "Cell" processor.
It will sport what is called a "standard" -- though customized -- GPU and 8GB of GDDR5 memory. The 8-core processor and GPU are unified on the same die, providing 170GPBS bandwidth. The PS4 will include a Blu-ray drive, as well as USB 3.0, Ethernet, 802.11n wi-fi, and Bluetooth.
In additional, it will carry 8GB of RAM, or 16 times the amount of memory found in the PS3.
Using a secondary processor that allows for background work while the main processor is handling gameplay, the PS4 can play digital titles while they are being downloaded. It can also handle a big complaint of the PS3: the console can update game and system items even when the main system power is off. That means that unlike the PS3, folks won't fire up the PS4 only to wait and wait -- and wait -- while the console updates.
The new DualShock 4 controller features a touchpad, share button, lightbar and headphone jack. The lightbar mates with a camera system on the PS4 that allows the console to track the player's distance from the console.
What of the PS4's big rival, the Xbox One? In comparison, Microsoft's Xbox One will launch on Nov. 22 in 13 major territories -- but not Asia or Japan. It is expected to be released in Asia late next year, but a specific date for Japan has not yet been detailed.