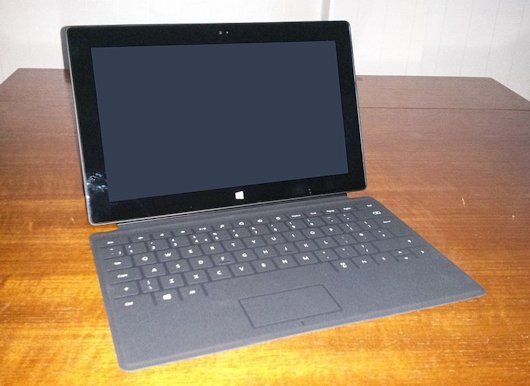 If you can't sell your tablets, well just give them away. That is what Microsoft intends to do with its backlog of Surface RT tablets, according to a Wednesday story in
The Verge
.
Launching on Wednesday, the program is more than just about unused Surface RT tablets, though. It's a way to get more users on Bing search, although realistically, there's very little hope of Google being dethroned no matter what Microsoft (or Yahoo) does.
Bing for Schools is a new version of Redmond's search service that includes strict filtering and privacy protections designed for schools (and yes, no ads). The pilot kicks off with 800,000 students in a number of U.S. schools on Wednesday -- including the Los Angeles Unified School District, Atlanta Public Schools, Fresno Unified School District, and Detroit Country Day School, among others -- with plans to extend it to non-pilot schools in the future.
Bing behavioral scientist Matt Wallaert said:
We already know that search is an important tool for kids in school – a recent Pew poll found that 94% of teachers believe their students are very likely to use a search engine during a typical assignment. We believe that schools should have the choice to make sure those searches are safer, more private, and ad-free. For schools in the search pilot, all of the school's Bing searches will have three key enhancements:


Removal of all advertisements from search results.
Automatic strict filtering to help block adult content.
Augmented privacy protections.
In addition, end users and Microsoft can turn Bing Rewards into Surface RT tablets.
For those unaware, Bing Rewards allows any user of the Web to earn credits (simply by surfing). Typical of such programs, credits can be redeemed for gift cards and other items -- or they can be donated, including to projects like Bing for Schools.
A mere 30,000 Bing Rewards credits adds up to a Microsoft tablet and Touch Cover for a school. As Wallaert explained, about 60 typical Bing Rewards users can earn a school one Surface RT in a month.
Just as with HD-DVD, though, it takes more than technology to keep a program going. In HD-DVD's case it was content; in Bing for School's case it is lesson plans. Microsoft has developed free daily learning activities specifically for children in kindergarten through 4th grade, 5th through 8th grade, and 9th through 12th grade.
An archive of lessons will be available on the
Microsoft Partners in Learning
site.
Each activity will use the Bing homepage image of the day to pose a critical thinking question that can be solved using search tools. Nope, no Google Doodles here.
Microsoft is also taking requests from administrators to join the program, and they can sign up online
here
.