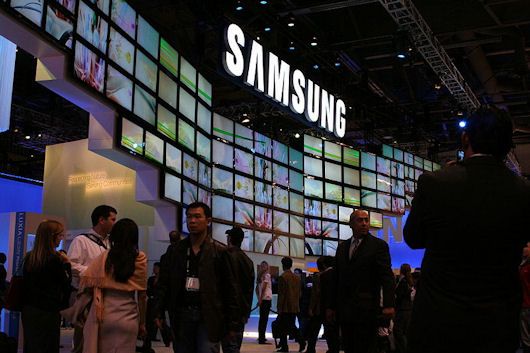 Apple's stock has been hammered as pressures from rival device manufacturers have hurt its sales. Its biggest rival, Samsung, showed on Thursday that it is not invulnerable to those same problems, as the company issued guidance that indicates second quarter apparently has
missed a forecast
that had already been modest.
This is not to say that the results aren't going to be good. Samsung's guidance is that its operating profit will come in around $8.3 billion for the three-month period ended June 30. While a 47 percent increase year-over-year, it would still miss analysts' average forecast for an operating profit of $8.8 billion. Prior to a slight decline for Q1 2013, Samsung had a string of five straight quarters of record profits.
The Galaxy S series of smartphones (S, S II, S III, and this year's S4), all sporting Google's open-source Android platform, helped push the South Korean electronics giant to the top of -- not just smartphone makers -- cell phone manufacturers in 2012.
The latest results seem to indicate that Samsung is feeling the heat of rival devices, declining margins, and increasing adoption of smartphones as folks transition from feature phones to smartphones -- which means there are fewer consumers left who can become new smartphone owners.
What's most worrisome is that analysts had reduced their estimates for the company's quarter last month, in June. Despite this, Samsung still missed their forecasts.
Jung Sang-jin, a fund manager at Dongbu Asset Management, which owns Samsung stock, admitted the company's issues with Galaxy S4 sales, but took a slightly more positive view in the long-term:
Is Samsung's smartphone story now over? Not quite yet. It's growth is indeed slowing due largely to disappointing sales of the S4.

Yet I think Samsung has some exciting stuff up its sleeves. The problem is no one is sure whether these products can really wow investors and consumers.
Byun Han Joon, a Seoul-based analyst at KB Investment and Securities Co. was more concerned, as he
said
:
It sharply missed the market expectation, and that worries me. The market was initially concerned about the third- and fourth-quarter results, but today's news raises questions if the earnings are already in bad shape.
Samsung will issue its full Q2 2013 results on July 26, just days after rival Apple posts its fiscal Q3 2013 results, on July 23.
Join Amazon Prime - Watch Movies, TV Shows via Prime Instant Video, Free Two-Day Shipping, and More!