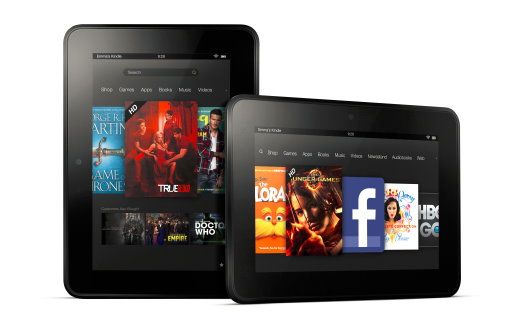 Despite the advent of the much-ballyhooed HTML5, there are still many places on the Internet where a visitor will fine content that requires Flash. That, of course, is far more painful for mobile users, and Amazon.com, admitting that it has heard from customers, is experimenting with enabling Flash video content, the company
confirmed on Tuesday
.
Amazon.com's Kurt Kufeld said that the company has been testing Flash video content on its mobile devices for about six months. Since February, in fact, some Kindle Fire owners have noted an option to use an "experimental streaming viewer" (ESV) when attempting to watch video on websites such as CBS.com, NBC.com, and Fox.com.
Amazon.com is leveraging its Silk browser's server-side abilities to perform the work. Silk splits its workload between the device and Amazon.com's own cloud servers. Considering the power of Amazon.com's AWS servers -- widespread outages to the contrary -- it could be an effective way for the company to support Flash video on its devices.
Amazon.com's tests include implementing the feature on a small number of websites. The company has been slowly increasing that number as time goes on. Kufeld, who leads the company's Silk browser team, said:
Because this feature is built on the AWS cloud, expanding our list of available sites is as simple as a configuration change that immediately propagates to customer devices and we can scale out elastically based upon customer demand. It's still early days, but we're very excited about this feature.
Leveraging the cloud for Flash support isn't new. Skyfire, for example, used the same technique for its
web browser
.
It's proved doable, and popular. In just its first month, the ESV streamed about 1.4 million minutes worth of video, with only a handful of sites enabled. Since then, Amazon.com has increased the number of sites covered to a few dozen.
Kufeld added that a number of Amazon.com customers expressed dismay when Adobe dropped Flash support for Android. The company was never able to get Apple to adopt Flash for iOS, and given that, and the problems of rendering Flash on a mobile device, Adobe gave up the ghost about two years ago.
It's unclear, though, if the company will expand Flash support into, say, Flash games or other content. Kufeld said:
It's still very early days, and currently we're focusing on video. I can't speak to what we may do in the future.
Join Amazon Prime - Watch Movies, TV Shows via Prime Instant Video, Free Two-Day Shipping, and More!