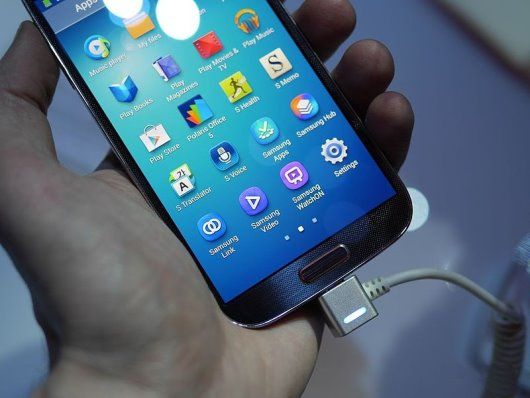 Doing a lot of math, the Pew Research Center's Internet & American Life Project's latest smartphone adoption survey,
released Wednesday
, came up with an interesting number: 56 percent of U.S. adults now own a smartphone.
To come up with that figure, Pew noted that, based on two different measurements, 61 percent of cell phone owners say they have a smartphone. Since 91 percent of the U.S. adult population owns some sort of cell phone -- ta da -- 56 percent of all American adults now own smartphones.
That leaves 35 percent of American adults who have some sort of cell phone, and 9 percent who are communication Luddites and don't have a cell phone at all.
While last year's Pew report found that smartphone owners represented 53 percent of cell phone owners, crossing a milestone, this year's data went one further. It said that over half of the U.S. population -- not U.S. cell phone owners -- had a smartphone. This is the first time this has ever occurred, and there's no going back now.
With smartphones such as the Samsung Galaxy S4, the Nokia Lumia 928, and the iPhone 5, it was inevitable.
Breaking things down into age groups, as you might expect, the percentage of smartphone adoption is highest among the younger audience.
18-24 - 79 percent (243 respondents)
25-34 - 81 percent (284)
35-44 - 69 percent (292)
45-54 - 55 percent (377)
55-64 - 39 percent (426)
65+ - 18 percent (570)
There were 2,252 respondents, in all.
Other tidbits of information from the report:
Younger adults -- regardless of income level -- are very likely to be smartphone owners.
For older adults smartphone ownership is more of an "elite" phenomenon: smartphones tend to be quite prevalent at the upper end of the income distribution but much less common among those with lower income levels.
Education has a role to play: The overwhelming majority of smartphone owners have attended or graduated from college
Android and iPhone owners -- groups always arguing that their devices are better than the others, have interesting demographic differences. Between the groups:
Almost half, 49 percent, of cell owners with a household income of $150,000 or more say their phone is an iPhone. Among cell phone owners with an income of less than $30,000 annually, only 13 percent own an iPhone while 28 percent own an Android phone.
African-American cell phone owners gravitate to Android -- 42 percent own Android, and only 16 percent own an iPhone.
Hispanic cell phone owners are evenly divided -- 27 percent own Android, while 26 percent own an iPhone.
Among whites, the percentage is reversed -- 27 percent own an iPhone, while 26 percent own Android.
Younger cell phone owners skew toward Android. As an example, 43 percent of cell phone owners 18-24 own Android and 31 percent own an iPhone.
Meanwhile, among older cell phone owners, only 7 percent of cell phone owners 65+ in age own Android, while 11 percent own an iPhone.
For this survey:
Margin of error is plus or minus 2.3 percentage points for results based on Total [n=2,252]
Margin of error is plus or minus 2.5 percentage points for results based on all internet users [n=1,895]
Margin of error is plus or minus 2.4 percentage points for results based on all cell phone owners [n=2,076]