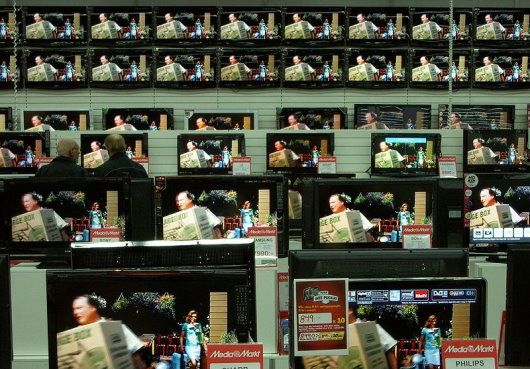 A Northwestern University study, "Parenting in the Age of Digital Technology," challenges many of the preconceived notions about parents and the media use of their children. The
report
was issued on Tuesday.
The study surveyed over 2,300 U.S. parents of children ages eight and younger. It came out of the Center on Media and Human Development, School of Communication, at Northwestern University.
Among the surprises in the study are that American parents are mostly unconcerned about their young children's media use. These digital distractions include TV, smartphones, and tablets -- as well as the old school PC.
78 percent of those surveyed say they do not -- not -- have conflicts over media use. 20 percent say they do. 59 percent of surveyed parents say they are not worried about their children becoming addicted to video games, smartphones, or tablet, while 38 percent say they have some concerns.
Slightly over half (55 percent) of parents say they are not concerned about their children's media use, while three in ten parents say they are either very (13 percent) or somewhat (17 percent) "concerned." Notably, a fair amount (13 percent) say this issue isn't relevant given their child's age.
Despite the influx of digital devices such as tablets into households, the common everyday toy is still the no. one go-to item for occupying a child (of course, in this day and age, some toys are nearly as complex as a tablet or smartphone). 88 percent of parents turn to a toy or other activity first, followed by books (79 percent), or TV (78 percent).
Of those with smartphones or tablets, 37 percent say they are very or somewhat likely to turn to those devices.
Even when trying to calm an upset child, parents say they are much more likely to turn to a toy or activity (65 percent) or to a book (58 percent) than to a media device. TV comes in at 40 percent, with smartphones and tablets slotted way down the list at 17 percent.
In a press release, Ellen Wartella, director of Northwestern's Center on Media and Human Development and lead author of the report said:
Today's parents (of young children) grew up with technology as a central part of their lives, so they think about it differently than earlier generations of parents. Instead of a battle with kids on one side and parents on the other, the use of media and technology has become a family affair.
In terms of "family affairs," the report stated that parents and children frequently use media technologies together, with about three out of ten parents saying that when their child is watching TV (32 percent), using the computer (29 percent), or playing on
a smartphone (29 percent), a parent is watching or playing along with them (parental co-engagement) "all or most" of the time.
However, these activities are nowhere near the top family activities. "Cooking and eating meals together" is enjoyed "a lot" by 67 percent of those parents surveyed.
Among the other findings of the report:
The most consistent concern parents have about digital media is any negative impact it might have on their children's physical activity. In other words, the age-old, too much TV (smartphones, tablets) and too little physical play.
In terms of the impact of media (TV, computers and mobile devices) on their children's reading, math skills, and creativity, parents think more positively than negatively about such activities with the exception of (drum roll) video games.
Parents view computers as less harmful to their children than TV or mobile devices.
There is still a big gap between higher- and lower-income families in terms of access to new mobile devices.
Lower-income parents (those earning less than $25,000 annually) are more likely than other parents to turn to TV for
educational purposes.
Similarly, lowerincome parents are also more likely to think TV has a "very" positive effect on children's reading (23 percent, compared to 4 percent among those making $100,000 or more annually) as well as their math and speaking skills.
Parents still turn to family and friends for parenting advice far more often than to new media sources like websites, blogs, and social networks.