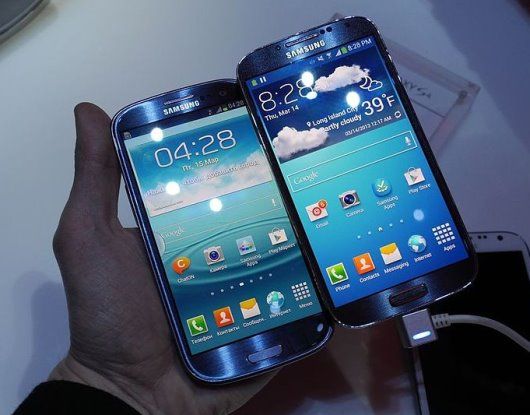 The nation's no. 3 and no. 4 biggest wireless carriers have had to push back the dates of their Samsung Galaxy S4 releases, blaming the delay on a supply shortfall. Sprint and T-Mobile
both announced
the date changes on Wednesday.
Sprint, the third-largest carrier in the U.S., said:
We had planned to launch this next generation of the award-winning Samsung Galaxy line-up on Saturday, April 27. Unfortunately, due to unexpected inventory challenges from Samsung, we will be slightly delayed with our full product launch.
Online and telephone sales will still begin on April 27, Sprint said, but the GS4 will not be available in stores until an unspecified later date.
Meanwhile, T-Mobile, the nation's fourth-largest carrier, had hoped to open online sales on April 24. Instead, it was forced to announce:
We know customers are really looking forward to getting their new Samsung Galaxy S 4 soon. However, due to an unexpected delay with inventory deliveries, the Galaxy S 4 will not be available on www.T-Mobile.com as planned today. Instead, online availability is expected to begin on Monday, April 29. We apologize for any inconvenience and are working with Samsung to deliver the device to T-Mobile customers as soon as possible.
In addition, T-Mobile is pushing back its retail launch date. The company said that the Galaxy S4 is now expected in "select" T-Mobile stores and other retailers on May 8. Nationwide nationwide retail availability won't begin until May 15.
That leaves AT&T as the first to launch the GS4 in the U.S. The nation's second-largest wireless carrier said its planned Saturday launch -- April 26 -- is on schedule. A rep said:
We are on track with our planned April 27th in-store launch of the Samsung Galaxy S 4 and are excited to hear what our customers think of this highly anticipated smartphone."
Finally, we come to the nation's largest carrier: Verizon. While you might think that being no. 1 would mean it would be first out of the gate, you'd be wrong. Verizon has said it will start taking pre-orders for the Galaxy S4 on Thursday, but won't have the Galaxy S4 available until May 30.