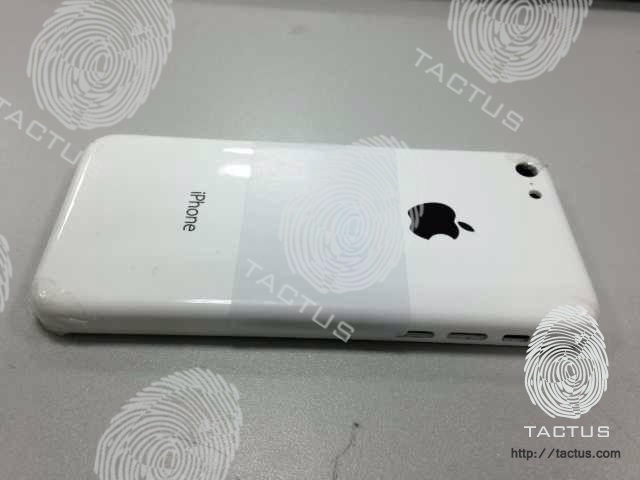 It is pretty much assumed that Apple's budget iPhone, whatever it may be named, will have a plastic case, as opposed to the ceramic, glass, and metal of the current iPhone 5. With that, an alleged image has leaked to the Web showing a white iPhone with a plastic backing. The image
was posted on Thursday
.
The leaked image came from case manufacturer Tactus, who
earlier this week
was among several sources that shared photos of cases purportedly designed for the fifth-generation iPad. As rumored, those cases showed evidence that the iPad 5 is expected to be smaller than the existing iPad and leverage the design of the iPad mini.
Thursday's leak involved the so-called lower-cost or budget iPhone. Apple is expected to attempt to combat low-cost Android phones with this device, selling at an unsubsidized price low enough, the company hopes, to make an impact in those countries that eschew carrier subsidies.
The photo is said to be a white rear shell for the budget iPhone. As previous rumors said, it appears to be plastic, a move that will be used to lower the device's cost. IT's rumored, as well, that Apple will sell the device in a number of colors, not just black and white.
Tactus claimed that a number of the rumors are, in fact, real, including that color rumor. The device is expected to sport an A5 chip, which by the time the budget iPhone ships will be two generations out of date, but once again, cheaper. Tactus also claimed the device will have a 3.5-inch retina display, which again would save money, but flies in the face of usually reliable KGI Securities analyst Ming-Chi Kuo's earlier prediction of a 4-inch display.
Tactus also predicted -- without giving backup information -- that the budget iPhone would ship on Oct. 15 and sell for about $300. Those predictions would be in-line
with Kuo's
latest information.
Apple, though, hasn't confirmed that any such lower-cost device is in the works. Many analysts believe that in order to compete with lower-cost Android phones, the Cupertine, Calif.-based firm has to create such a budget iPhone.