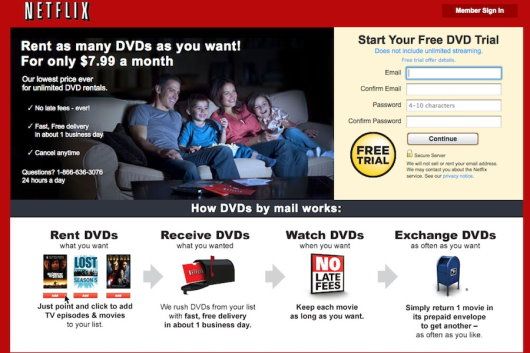 Netflix reported its
first quarter 2013 results
on Monday, and the company which once sorely angered its subscribers with moves it
proposed in 2011
appears to be solidly back on track. The company reported it now has 29.17 million domestic subscribers, which puts its numbers above that of HBO -- for the first time.
Netflix had ended 2012 with 27.15 million domestic subscribers, and added just over 2 million of them. Data from SNL Kagan said that HBO ended 2012 with 28.7 million subscribers. SNL Kagan will update subscriber numbers for premium channels next month, and that Q1 update might put HBO back ahead of Netflix domestically again.
Netflix, of course, has very few subscribers -- comparatively -- globally, when compared to HBO. HBO has 114 million subscribers worldwide, which is far ahead of the 7.14 million Netflix subscribers outside of the U.S., which -- including its newly added one million international subscribers, brings its worldwide total to over 36 million subs, which tops Q4 2012 by over 3 million.
Looking at money -- not subscribers -- Netflix reported strong Q1 2013 earnings results on Monday. It had revenue of $1.02 billion, which was in-line with analyst predictions, and earnings-per-share of $0.31, which beat consensus estimated by $0.13.
In addition to its results, Netflix's quarterly letter to shareholders had another tidbit of info, one which might please subscribers with large families. The company currently allows subscribers to stream two movies or TV shows simultaneously from different devices, but on Monday, the letter, written by CEO Reed Hastings and CFO David Wells, said:
A few members with large families run into our two-simultaneous-stream limit. To best serve these members, we're shortly adding a 4-stream plan, at $11.99 in the U.S.
Indeed, they're not making the change gratis. Given that, Netflix expects only about one percent of customers to take advantage of the family plan.
Those, we'd estimate, will be folks who might be sharing their credentials with friends. Unfortunately, people in that camp will still be stuck with receiving recommendations from those faux family members.