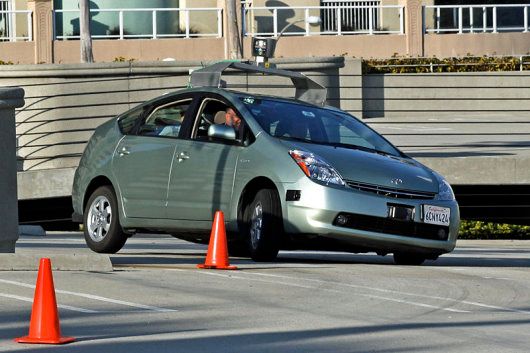 Distracted driving -- particularly when the distracted is surfing the Web, texting, or other smartphone or tablet activity -- is a big problem, even the NHTSA and DOT admit. The best solution, aside from eschewing the activity, is a self-driving car, but despite Google's best efforts, a Thursday report says
they are still a long way off
.
Google has done a great job of advancing the concept of autonomous vehicles, and it's been joined in that chase by Audi, GM, Toyota and others. However, self-driving cars won't come anytime soon. The mass market won't see such vehicles until 2025, said experts at the 2013 Society of Automotive Engineers 2013 World Congress.
The SAE, whose initial most will recognize from familiar cans of oil, influence everything from cargo specifications to horsepower. Despite their somewhat pessimistic view of autonomous vehicles, the SAE does have better news for those looking to use "semi-autonomous" vehicular technology, which combines collision-detection and steering technologies along with the ubiquitous human to keep a driver in his lane and far enough behind the car ahead, will hit the market much sooner, experts said.
There's plenty of regulatory barriers to cross, too. The National Highway Traffic Safety Administration (NHTSA) said last October that it would launch a $1.75 million multi-year research project to determine the human controls still necessary in driverless cars. That study alone a considerable time.
Google has shown that -- at least in its opinion -- its autonomous vehicles are safe, perhaps as safe as human drivers. It has already stated it plans to release its autonomous driving technology by 2018.
Still, while such vehicles may prove safer than a human, let's not forget that such technology is bound to be expensive, at first. We'd expect that most cars would remain in control of the technology that -- with the caveat that error-filled programming would mean an error-filled autonomous vehicle -- makes the most mistakes, overall: a human.