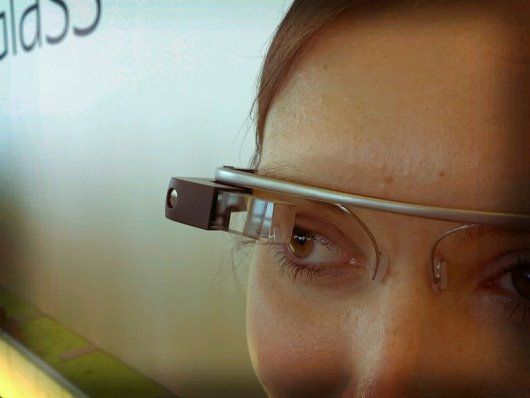 On Monday, Google released the Google Glass APIs for its upcoming smartglasses, and at the same time, the company finally
revealed the specs
for the device. The specs are impressive for such a compact set of electronics.
As part of the specifications, potential end users finally got the specs for the camera which, based on demos and other Google sales pitches, will be all important. The camera is a 5 megapixel camera, with 720p recording capability.
Glass comes with 16GB of internal storage, of which 12GB is available to the end user. While seeming to be a high vault for Google to make in such a small device, consider that microSD cards are easily and (relatively) inexpensively found with 64GB of storage or more.
There might be some disappointment for those looking at the wi-fi specs of the device. It will only support 802.11b/g, most likely as a power-saving measure. 802.11g operates at a maximum data rate of 54 Mbit/s, while 802.11n can operate at a maximum data rate of from 54 Mbits/s to 600 Mbits/s.
802.11ac, still under development, will provide multi-station WLAN throughput in the 5 GHz band of at least one Gbits/s and a maximum single link throughput of at least 500 Mbits/s.
Google says the display will be the equivalent of viewing a 25-inch HD screen about 8 feet away. That gives end users a good idea of the Glass experience.
Google added that the device should support one day of "typical use," but manufacturers -- including arch rival Apple -- often over-estimate battery life.
Tech specs follow:
Fit
Adjustable nosepads and durable frame fits any face.
Extra nosepads in two sizes.
Display
High resolution display is the equivalent of a 25 inch high definition screen from eight feet away.
Camera
Photos – 5 MP
Videos – 720p
Audio
Bone Conduction Transducer
Connectivity
Wifi – 802.11b/g
Bluetooth
Storage
12 GB of usable memory, synced with Google cloud storage. 16 GB Flash total.
Battery
One full day of typical use. Some features, like Hangouts and video recording, are more battery intensive.
Charger
Included Micro USB cable and charger.
While there are thousands of Micro USB chargers out there, Glass is designed and tested with the included charger in mind. Use it and preserve long and prosperous Glass use.
Compatibility
Any Bluetooth-capable phone.
The MyGlass companion app requires Android 4.0.3 (Ice Cream Sandwich) or higher. MyGlass enables GPS and SMS messaging.