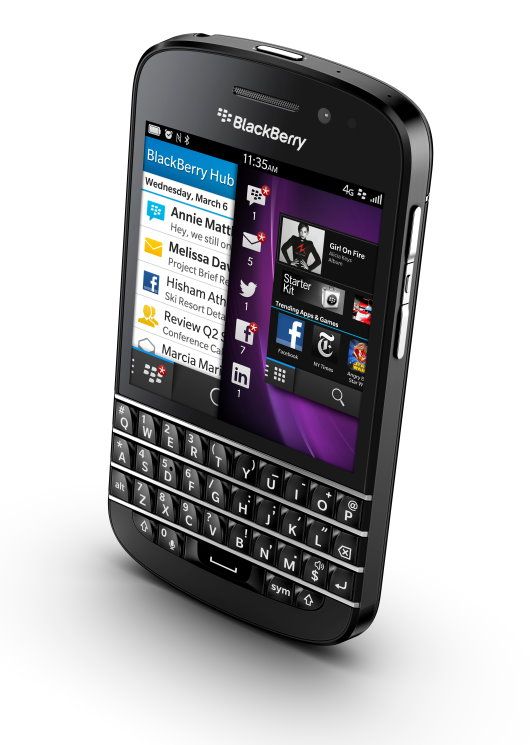 Some BlackBerry users have refused to switch to Android or iOS because they love the device's iconic keyboard. It's not just the fact that the device has a keyboard -- after all, Android devices have both slideout and portrait style keyboards -- its the BB keyboard in particular. On Monday, as BlackBerry Chief Executive Officer Thorsten Heins hyped upcoming sales of the company's new keyboarded Q10, its stock price
rose to its highest level
in over a month.
Heins said:
We have very, very good first signs already after the launch in the U.K. This is going into the installed base of more than 70 million BlackBerry users so we have quite some expectations. We expect several tens of million of units.
Heins was speaking in an interview with Bloomberg Television on Monday at the Milken Institute conference in Los Angeles.
The Q10 is one of BlackBerry's first two BlackBerry 10 OS devices. The earlier released Z10 featured a touch-screen only, no keyboard, as with most Android devices and the iPhone. The Q10, on the other hand, which is only now being launched to retail, features the company's famous, familiar, and beloved keyboard.
BlackBerry (BBRY) shares rose 3.9 percent to $15.61 at Monday's market close in New York, its highest price since March 21. The stock has risen 32 percent this year on optimism that the company's new BlackBerry 10 lineup can help it make a comeback.
Early Tuesday morning (Pacific time), the stock was up another two percent to $15.93 (up $0.34). The stock's 52-week high is $18.32. Its 52-week low is $6.22.
Jefferies Group analyst Peter Misek wrote in a Monday research note that, in the U.K., outlets of Carphone Warehouse as well as the department store Selfridges sold out of the Q10 quickly. It is unclear how many devices were sold, though.
He added,
Salespeople were well-versed on the device and there was more apparent buzz versus the Z10 launch.
The Q10 has a full QWERTY keyboard, a square 3.1-inch Super AMOLED touchscreen display, and 16GB of internal storage, with up to 64GB microSD expansion.
It comes with a rear-facing 8MP camera and a front-facing 2MP camera. As you'd expect, it supports wi-fi, Bluetooth, and NFC. The phone will sell in the U.S. on a two-year contract for $249.
In contrast, the touch-screen only Z10 shipped with a 4.2-inch diagonal screen and 16GB of internal storage, with up to 64GB microSD expansion. It has the same camera and keyboard capabilities. It's been reported that the Z10 was a modest success, with sales of a million units in its first quarter that ended March 2.