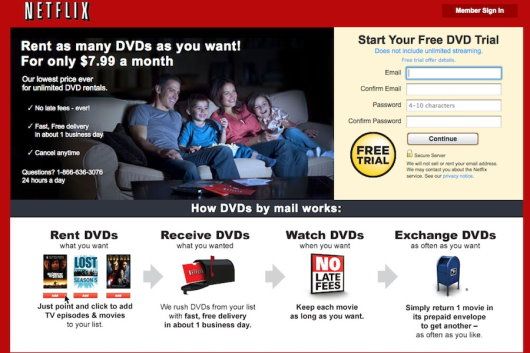 The U.S. Postal Service announced on Wednesday that it would end Saturday mail service, and the big question then became, "How will this affect Netflix?" The answer, according to analysts, is that
it might help the company's bottom line
,
albeit only slightly.
The slight help to Netflix' income might come because, with one fewer day per week to mail back and receive DVDs, subscribers might be able to watch fewer DVDs for the same monthly price. DVDs that used to arrive on Saturday would come on Monday instead, delaying when subscribers could watch a movie and return it for the next one. Those who wish to ensure they have a DVD to watch on the weekend might need to mail the disc back a day earlier to make sure that they receive the new one by Friday.
Investors weren't blind to that: Netflix's stock gained $10.02, or nearly 6 percent, closing Wednesday at $184.41. Earlier that day, the stock hit a new 16-month high at $185.14. As of mid-morning Thursday, PST, Netflix stock had dropped slightly, about 2 percent.
Investors might have reacted differently earlier in Netflix's life, when the company was more DVD-centric. The total number of Netflix's subscribers receiving DVDs peaked at 24.6 million during the summer of 2011. Netflix, though, has long realized that streaming video was the future. Since then, the number of its DVD subscribers has dropped substantially.
Netflix began 2013 with just 8.2 million DVD subscribers, and that number is expected to continue to drop. In contrast, Netflix had 27.1 million Internet video subscribers in the U.S. at the start of the year. The DVD option isn't even offered in Canada, Latin America, the United Kingdom and other markets the company is expanding to.
However, that doesn't mean there aren't some DVD loyalists. When Netflix announced a DVD-only spinoff, Qwikster,
back in 2011
, it received so much flak over the move it canceled it.
Qwikster would have become Netflix's DVD arm, while the main company focused on streaming video.