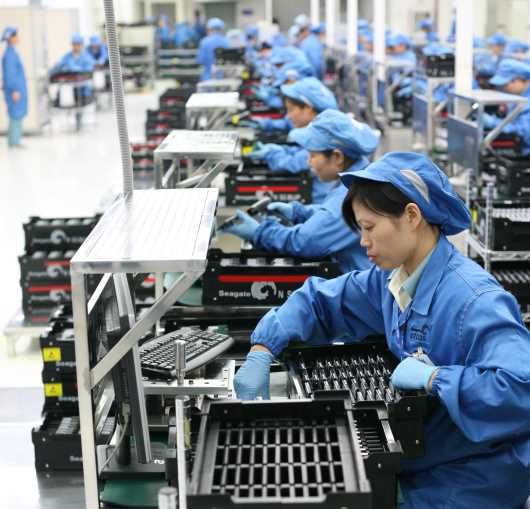 Apple stock dropped over $9 on Wednesday morning, based on reports that its key manufacturing partner, Foxconn,
had instituted a hiring freeze
.
The freeze, first reported in the Financial Times, was said to be due to the Hon Hai Industries subsidiary slowing production of Apple's iPhone 5. However, later in the day, Foxconn
released a statement
denying that assertion.
Instead, Foxconn spokesman Bruce Liu said that the decision to halt hiring -- and only until the end of March -- had nothing to do with demand. Instead, the company said, more employees returned to the company from the Chinese New Year break than in 2012, meaning they had less need for replacement workers.
That is an interesting development. According to a person close to the company, employees don't stay that long at Foxconn. The average tenure at Apple's biggest partner is reportedly under 13 months.
The iPhone -- in all its versions (the iPhone 4, 4S and the flagship 5 are all being sold currently) is Apple's best-selling product, and accounts for over half of the company's revenue. However, growth has been slowing as more people switch from feature phones to smartphones, saturating the market as less need to upgrade.
In addition, rivals such as Samsung have introduced a wider variety of handsets, including some that can compete or even surpass the iPhone's specifications, but also some that are cheaper and sell better to emerging markets. Apple's stock has plummeted from a high of around $700 last year, by about 35 percent, over sales concerns.
Alexander Peterc, an analyst at Exane BNP Paribas said:
It's a big slowdown. The new, incremental buyer is very different than what we saw in the initial stages.
Peterc has predicted that Apple will sell 38 million iPhone 5 units this quarter, its fiscal Q2 2013, which would amount to 20 percent less than last quarter.
Once the world's largest smartphone maker, Apple has ceded that to its aforementioned giant rival, Samsung. Samsung is also the world's top seller of cell phones, period, not just smartphones. However, Android gains a lot of sales based on the variety of handsets that are available; when it comes to just a single device, Apple still has the top seller: the iPhone 5, according to a Strategy Analytics report
issued on Wednesday
.