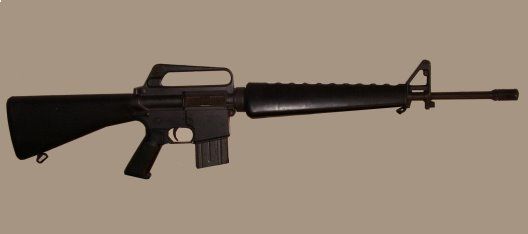 The National Rifle Association promised it would hold a press conference on Friday to discuss the massacre at Sandy Hook Elementary School, and it did so early Friday morning. The essence of what the NRA said, though, was to defend itself by using the other large target in the room, video games.
Although, of course, the press conference was held live, the full statement from Wayne LaPierre, the NRA's executive vice president,
is available here
. The full press conference
can be seen here
, in three parts.
Excerpts show video games have been thrown under the bus:
There exists in this country a callous, corrupt and corrupting shadow industry that sells, and sows, violence against its own people.
Through vicious, violent video games with names like Bulletstorm, Grand Theft Auto, Mortal Kombat and Splatterhouse. And here's one: it's called Kindergarten Killers. It's been online for 10 years. How come my research department could find it and all of yours either couldn't or didn't want anyone to know you had found it?

Then there's the blood-soaked slasher films like "American Psycho" and "Natural Born Killers" that are aired like propaganda loops on "Splatterdays" and every day, and a thousand music videos that portray life as a joke and murder as a way of life. And then they have the nerve to call it "entertainment."

But is that what it really is? Isn't fantasizing about killing people as a way to get your kicks really the filthiest form of pornography?
LaPierre is just trying to spin the issue. For one thing, Kindergarten Killers is a 10-year-old Flash game that last made news in 2008, when a game site in Finland removed it following a school shooting in that country. He also got the name wrong;
it's Killer, not Killers
, but we don't expect the NRA to work hard to deliver facts. The NRA also threw movies under the bus, too, as can be seen by LaPierre's references to "Natural Born Killers."
We didn't see a mention of TV or television, however, which makes us wonder if LaPierre has stock in AMC (
The Walking Dead
,
Breaking Bad
), or other networks that have extremely violent shows.
The NRA wasn't done with that. It called for armed police in every school. It's assumed that the NRA meant both public and private schools. Private schools can pass the cost along to parents, but in terms of public schools, you'd need taxes for that. Wait, isn't the right-wing against any more taxes?
What LaPierre doesn't seem to know is that hard-core gamers don't spend time on Flash games. They spend time on games such as World of Warcraft, Diablo III, and yes, games like various titles in the
Call of Duty
series. That being said, the response to the NRA's statement was favorable from the extreme right and unfavorable to those who are reasonable,
including gun owners and conservatives
.
Among the tweets from celebrities:
Mark Cuban
: I think the NRA press conference is what the Mayans had in mind when they said the world would come to an end today
Seth Green
: NRA: If we banned schools there would never be another school shooting.
Bette Midler
: NRA says we need armed guards at every school. Well, since NRA IS SHILLING FOR THE FIREARMS INDUSTRY, this makes good sense for them.
The NRA's press conference was its first substantive response to the Sandy Hook Elementary School tragedy. On Friday, Dec. 14, Adam Lanza shot and killed his mother, took some of her guns, and forced his way into Sandy Hook Elementary School in Newtown, Conn. He used an assault rifle to kill 20 six- to seven-year-old students and six adults, before killing himself with a handgun as police closed in.