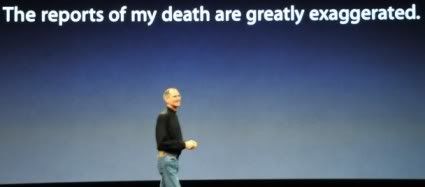 An erroneous, but not faked or hacked, Tweet on CBS' "What's Trending" Twitter account led people to briefly believe that Apple Chairman of the Board Steve Jobs had died. The Tweet was quickly removed, but the damage was done, as the post had been reTweeted.
"What's Trending" later corrected itself with another Tweet, saying "Apologies- reports of Steve Job's death completely unconfirmed. Live on."
With the recent retirement of Steve Jobs as Apple CEO, the Tweet about his death was taken seriously by many. Job is a survivor of a rare form of pancreatic cancer and previously received a liver transplant. He has been rumored to be in bad health, and his retirement has not helped along those lines.
In particular, his message to the Board of Directors when he retired had the following statement: "I have always said if there ever came a day when I could no longer meet my duties and expectations as Apple's CEO, I would be the first to let you know. Unfortunately, that day has come."
If Steve Jobs feels he can no longer perform the duties of Apple's CEO, that can only mean his health is in poor shape.
Although this was an error, there's no indication as yet as to why the error occurred. Previously, some posts and news reports of Steve Jobs' demise were intentionally planted, either as hoaxes or some believe, to cause drops in the price of Apple stock.