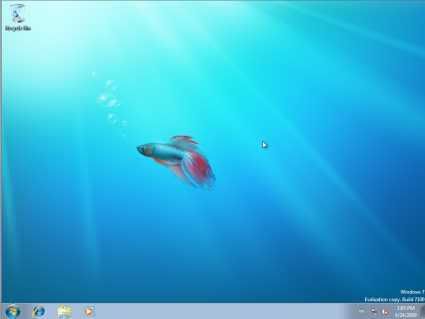 As promised, on Thursday Microsoft released the Release Candidate build (7100) to MSDN and TechNet subscribers at
http://technet.microsoft.com
. The fact that it's been
available on P2P sites
for about a week should in no way embarrass Microsoft.
Just to be clear, unless you are downloading from the aforementioned P2P sites, the build is only available to MSDN and TechNet subscribers. If you already have a beta key, that key will work. If not, Microsoft has previously said "not to worry."
The RC release will be available at least through June 2009, and they're not limiting the number of product keys. Of course, they said that when they accidently leaked the RC web page, but oh, well.
The public will get its first official look at official Windows 7 RC download next week, on May 5th.
Nicely, the RC build will work for about 13 months. That's right, Microsoft will give users until June 1st, 2010 to run the darn thing. That's pretty generous.
Here are the highlights and system requirements for Windows 7 RC, as noted by Microsoft in a
press release
on Thursday:
Windows 7 RC Reflects New Advancements
New to the Windows 7 RC are advancements such as Remote Media Streaming, Windows XP Mode (beta) and the upcoming beta of the Windows 7 Upgrade Advisor:
Remote Media Streaming.

Enables highly secure, remote Internet access to home-based digital media libraries from another Windows 7-based PC outside the home.
Windows XP Mode.

Utilizing Windows Virtual PC, Windows XP Mode allows Windows 7 users to run many Windows XP productivity applications, launched right from the Windows 7 desktop. Windows XP Mode will be available to Windows 7 Professional and Windows 7 Ultimate customers via download or, for the best experience, pre-installed directly on new PCs. As part of today's announcement, Microsoft is releasing the beta of Windows XP Mode and Windows Virtual PC. For larger businesses where management is important to reduce the total cost of ownership, Microsoft Enterprise Desktop Virtualization (MED-V) within MDOP adds management to Windows Virtual PC including centralized policy, administration experience and deployment.
Windows 7 Upgrade Advisor.

To help enable a smooth transition, Windows 7 Upgrade Advisor will help people analyze their PCs in preparation for a Windows 7 upgrade. Available soon, Windows 7 Upgrade Advisor will be a downloadable tool that will help people determine their ability to upgrade from their Windows XP-based or Windows Vista-based PC to Windows 7.
In addition, a number of enhancements were made to existing features based on feedback from beta testers, including the following:
Refined navigation.

Several enhancements to the Windows taskbar, JumpLists and search make navigation and finding exactly what you want much easier.
Internet Explorer 8.

InPrivate browsing in Internet Explorer 8 prevents browsing history, temporary Internet files, form data, cookies, and usernames and passwords from being retained by the browser. With Windows 7, you can start an InPrivate session straight from the JumpList. You can also open a new tab from the JumpList.
Windows Touch.

Controlling the computer by touching a touch-enabled screen or monitor is a core Windows 7 user experience. Improvements in the RC include several Windows Touch updates, including the ability to drag, drop and select items with touch, even inside Web sites that scroll both horizontally and vertically.
System Requirements for Windows 7
With the RC, Microsoft is also providing guidance on the minimum system requirements for Windows 7, showing that Windows 7 will work on a broader array of hardware than any other release of Windows at launch:
1GHz or faster 32-bit (x86) or 64-bit (x64) processor
1 GB of RAM (32-bit)/2 GB of RAM (64-bit)
16 GB of available disk space (32-bit)/20 GB (64-bit)
DirectX 9 graphics device with Windows Display Driver Model 1.0 or higher driver
Watch a video that Microsoft has produced outlining the new RC features: