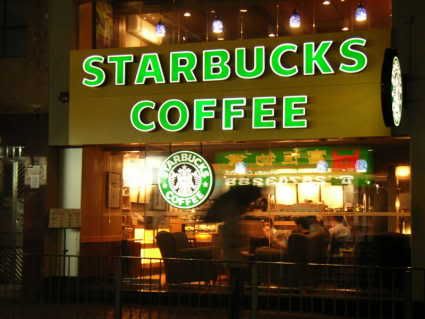 While I reported last week that smaller coffee shops and other outlets are cutting back on
free wi-fi perks
, Starbucks has stated that it's not going to join that group.
Starbucks offers 2 hours of
free wi-fi
every day to customers in the Starbucks Card Rewards program (with caveats).
Here's what their
official statement
on the matter is:
"We strive to create a welcoming environment for all of our customers. We do not have any time limits for being in our stores, and continue to focus on making the Third Place experience for every Starbucks customer."

The Third Place
, as referred to in Starbuck's message, is "a term used in the concept of community building to refer to social surroundings separate from the two usual social environments of home and the workplace."
While Starbucks only offers 2 hours via its Card Rewards program, AT&T DSL users can stay indefinitely, and of course others can always pay (bleh).
I'm a great supporter of local coffee shops, as opposed to gigantic chains like Starbucka and Peets (who is still behind the curve on wi-fi), but some think that the move by smaller establishments, meant to move out freeloading wi-fi users who aren't buying anything in favor of paying customers, might backfire.
To me Starbucks is still overpriced, and I prefer the coffee at other establishments, including McDonald's. And yes, McDonald's outlets frequently have wi-fi, once again free to AT&T DSL customers (and iPhone users ... now where's that tethering!).