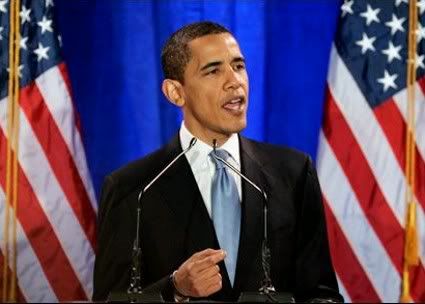 On Friday, President Barack Obama announced the creation of a new post, the so-called "cyber czar." Obama has previously created two other technology-related posts, Chief Technology Officer, Aneesh Chopra, and Chief Information Officer, Vivek Kundra.
Obama's "cyber czar" announcement came as the administration released a report (
.PDF
) on a review of the state of the United States' cyberspace policy.
There is, and should be, concern over possible cybersecurity issues. In fact, during last year's conflict
between Georgia and Russia
, a number of Georgian sites were taken down, reportedly by Russia (who of course denied the issue). Obama even noted this event during his speech regarding the creation of the new post. Citing a number of past and potential examples, Obama went on to make a powerful case for the creation of a "cyber czar" (officially known as the Cybersecurity Coordinator).
Some of Obama's comments regarding the creation of the "cyber czar" post:
We will work with all the key players -- including state and local governments and the private sector -- to ensure an organized and unified response to future cyber incidents. Given the enormous damage that can be caused by even a single cyber attack, ad hoc responses will not do. Nor is it sufficient to simply strengthen our defenses after incidents or attacks occur. Just as we do for natural disasters, we have to have plans and resources in place beforehand -- sharing information, issuing warnings and ensuring a coordinated response.
For those (and there will be plenty) concerned over possible privacy issues and maybe the loss of net neutrality:
Let me also be clear about what we will not do. Our pursuit of cybersecurity will not -- I repeat, will not include -- monitoring private sector networks or Internet traffic. We will preserve and protect the personal privacy and civil liberties that we cherish as Americans. Indeed, I remain firmly committed to net neutrality so we can keep the Internet as it should be -- open and free.
Sounds like a focus on net neutrality to me, but if you want still more of an indication of how careful the administration was with tailoring its report to the American public, check how many times the word "privacy" exists in the .PDF document.
In response, a bipartisan applauding of the action. Senators John Rockefeller (D-WV) and Olympia Snowe (R-ME), members of the Senate Committee on Commerce, Science and Transportation, said in a joint statement:
"We applaud President Obama for highlighting the extraordinarily serious issue of cybersecurity. No other president in American history has elevated this issue to that level and we think him for his leadership."

Similarly, House Homeland Security Committee Chairman Bennie Thompson, D-MI, and the committee's ranking Republican Peter T. King (NY) responded equally as favorable.
Thompson said, "This is a thoughtful review and I agree with many of its findings," promising to work with the Obama administration "to improve our nation's cybersecurity posture."
King called Obama's "cyber czar" action "a very positive step. We have to make sure that all of the federal departments and agencies are properly coordinated in their cybersecurity efforts."
We'll see how bipartisan support really is when appointment time comes around.
Watch Obama's speech below.