On Saturday, during his weekly radio address, President Barack Obama named Aneesh Chopra as the nation's first Chief Technology Officer. While just a small part of the radio address, it's a large step in making our government a little more current technologically.
He joins Vivek Kundra (below),
earlier named
the nation's first Chief Information Officer (CIO).
At the same time, Obama named the nation's first Chief Performance Officer, who will work with both Kundra and Chopra.
Here's what the announcement said:
I have named Jeffrey Zients, a leading CEO, management consultant and entrepreneur, to serve as Deputy Director for Management of the Office of Management and Budget and as the first ever Chief Performance Officer. Jeffrey will work to streamline processes, cut costs, and find best practices throughout our government.

Aneesh Chopra, who is currently the Secretary of Technology for Governor Kaine of Virginia, has agreed to serve as America's Chief Technology Officer. In this role, Aneesh will promote technological innovation to help achieve our most urgent priorities – from creating jobs and reducing health care costs to keeping our nation secure.

Aneesh and Jeffrey will work closely with our Chief Information Officer, Vivek Kundra, who is responsible for setting technology policy across the government, and using technology to improve security, ensure transparency, and lower costs. The goal is to give all Americans a voice in their government and ensure that they know exactly how we're spending their money – and can hold us accountable for the results.
Personally, the roles of CIO and CTO, at least to me, seem to overlap a great deal. But Tim O'Reilly was given access to a document that
outlines the differences and their roles
.
The responsibilities of the CIO are to use information technology to transform the ways in which the government does business. The CTO will develop national strategies for using advanced technologies to transform our economy and our society, such as fostering private sector innovation, reducing administrative costs and medical errors using health IT, and using technology to change the way teachers teach and students learn.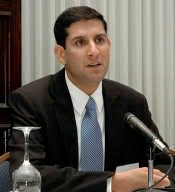 O'Reilly goes into great deal on just why Chopra is a great pick. At the same time, don't worry: Silicon Valley didn't have its feelings hurt. The Wall Street Journal has
comments
from a few Silcon Valley and tech pundits:
Mitch Kapor: Lotus Development Corporation founder:
"Aneesh's experience as Virginia's secretary of technology and that state's CTO has provided highly relevant preparation for this new role, and I am confident he will be a major asset to the Administration."

John Doerr, of VC firm Kleiner Perkins Caufield & Byers:
"If you want innovation, change and high performance — in any organization — the CTO role is crucial. Aneesh is an inspired appointment. His smarts and experience in technology, health care and investing will serve us well."

Google's Eric Schmidt:
"Aneesh built one of the best technology platforms in government in the state of Virginia."

Watch Obama's weekly address: