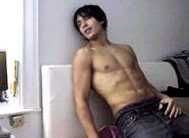 Paul Zolezzi, 30, committed suicide by hanging himself in a park behind the Brooklyn Museum Friday morning. He left a suicide note in an unusual place: his Facebook profile.
His body was found hanging from the monkey bars in Mount Prospect Park playground near the Brooklyn Museum at around 7 AM.
His suicide note on his Facebook page read:
"Paul Zolezzi is born in San Francisco, became a shooting star over everywhere, and ended his life in Brooklyn ... And couldn't have asked for more."
Paul Zolezzi was an aspiring model. He was troubled by heroin addiction, but also,
according to his mother
, Stephanie Zolezzi, by a broken engagement two years ago.
"I would say that people get so lonely, so delusional, that all they want to do is be remembered. He probably wanted to be remembered in a big way, to do it dramatically. That's what drugs will do to people."
Paul Zolezzi also lived most of his life without his father, who jumped to his death from the Golden Gate Bridge when Zolezzi was 8 years old. His mother, who still lives in San Francisco,
added
:
"I think he grew up with a hole inside his heart, a void because it was difficult to grow up without a father."
Zolezzi was obviously deeply troubled. Some of his other status updates from his page were:
"Paul is wondering, what unspeakable act did I do in a previous life to deserve this one?" he wrote in late January.

"Paul is going to be the first person ever to hang himself on the way out of Portland! Everything here sucks!"
A friend didn't take the his suicide note seriously, posting in reply to the suicide note: "Are you dying? or just staying brooklyn? I hope its the latter."