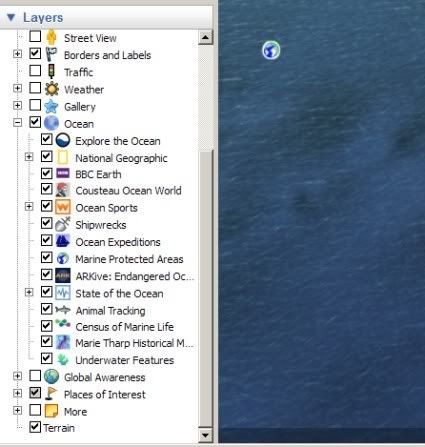 Google Earth 5.0
, including oceanographic data which some thought was a separate project named
Google Ocean
, was launched Monday at the
California Academy Of Sciences
in Golden Gate Park in San Francisco. In attendance was Nobel Prize Winner and former Vice-President Al Gore.
Yes, you may ask: wasn't that blue stuff all over the globe ocean? Yes, it was, but you couldn't dive down and explore anything. Now you can select the Ocean Layer in the sidebar (above, click to enlarge).
The World Wildlife Fund had
this
to say:
"The world's oceans face a grave and uncertain future. Bringing attention to critical marine places and the threats to them is essential to advancing our conservation work. Integrating information on WWF's marine conservation projects into this innovative and unique exploration tool, 'Ocean in Google Earth' will provide a powerful method for teachers, students, scientists, conservationists and the general public to increase their knowledge about the planet's oceans and potentially fuel efforts to protect them."
While that's one large section of the planet, basically, that has been added to the latest version of Google Earth, they have added some core functionality as well:
Historical Imagery:

Until today, Google Earth displayed only one image of a given place at a given time. With this new feature, you can now move back and forth in time to reveal imagery from years and even decades past, revealing changes over time. Try flying south of San Francisco in Google Earth and turning on the new time slider (click the "clock" icon in the toolbar) to witness the transformation of Silicon Valley from a farming community to the tech capital of the world over the past 50 years or so.
Touring:

One of the key challenges we have faced in developing Google Earth has been making it easier for people to tell stories. People have created wonderful layers to share with the world, but they have often asked for a way to guide others through them. The Touring feature makes it simple to create an easily sharable, narrated, fly-through tour just by clicking the record button and navigating through your tour destinations.
3D Mars:

This is the latest stop in our virtual tour of the galaxies, made possible by a collaboration with NASA. By selecting "Mars" from the toolbar in Google Earth, you can access a 3D map of the Red Planet featuring the latest high-resolution imagery, 3D terrain, and annotations showing landing sites and lots of other interesting features.
I felt that the coolest new feature, as opposed to new data, was the time feature, but don't get
too
excited. They do go back 60 years or so in most locations (the ones I tried, anyway), but the slider for time has discrete increments to which you change the time to. For example, we're looking at Cupertino in 1948 below; the next time you can select (circled) is 1991.
But it's Google Ocean that steals the show, and the release.
Much of the credit for the addition of the oceanographic data has to go to Sylvia Earle, Explorer-in-residence at National Geographic. As she relates on Google's
Lat Long Blog
, she complained three years ago to Google Earth and Maps Director John Hanke that Google Earth was unfinished. "You should call Google Earth 'Google Dirt'. What about the 3/4 of the planet that is blue?"
The rest, as they say, is history.