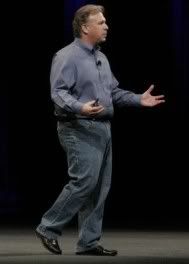 Those who said that the absence of Steve Jobs at Macworld would mean less spectacular announcements were so wrong. The rumors of the
unibody MacBook Pro
and the
DRM-less iTunes
were made reality on Tuesday.
As announced, Apple's Phil Schiller, senior vice president of Worldwide Product Marketing, took the stage rather than CEO Steve Jobs. And no, no cameo from Jobs.
First up
was iLife '09, and first up in iLife was iPhoto '09. Apple has added two new features,
Faces
and
Places
.
Faces
allows you to sort by person using facial recognition software. Apple boasts that while there's no perfect facial recognition software, what they have is the closest thing yet.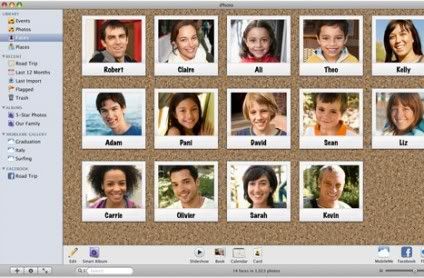 Also, as you label faces that the software finds, it will learn, and get better at recognizing (at least) the faces in your photos.
Places
uses GPS geotagging. It works with with various digital cameras and (natch) the iPhone to embed geo-tags into your photos.
There is also built-in support for Facebook and Flickr.
iMovie '09 was up next, with new features: a precision editor, a drag-and-drop feature, new themes, and animated travel maps. And something I'm used to on cameras, but not in software, automated video stabilization.
GarageBand '09 was next, but Apple only covered the new "Learn to Play" feature. And yes, it's supposed to teach you various instruments. And even better, you can learn from famous artists as well, such as Sarah McLachlan, for the piano. Apple says that they will add additional artists later, as well. Not free, however. You pay $4.99 for each artist lesson, which includes some backstory as well as teaching.
That's all Apple covered for iLife '09, though there are some changes in iDVD '09 and iWeb '09. iLife will still ship for free on new Macs (starting in late January) and an upgrade can be purchased for $79, or $99 for an five-computer upgrade license.
Apple also demoed
iWork '09
. It
includes
:
Keynote® '09 introduces advanced object transitions, which automatically animate objects with a choice of effects and Magic Move, an innovative way to create sophisticated animations just by applying a simple transition. Pages® '09 features a new Full Screen view that helps you focus on your writing and an outline mode to organize your thoughts. Numbers® '09 introduces a quick way to group and summarize data and a dramatically simplified way to create complex formulas. Apple also announced iWork.com public beta, a new service Apple is developing to share iWork '09 documents online.
I'm not going to go into too much detail on iWork '09, because it's the next two items that are of most interest, I would assume.
One thing of note for Keynote: the new "Keynote Remote." An iPhone or iPod Touch with $0.99 software (available in the App Store). It's an iPhone application that lets you advance slides by flicking them back or forward in the Cover Flow mode, with a wireless connection to your Mac.
Next up: the
17" unibody MacBook Pro
. Yes, the rumors were correct; the battery cannot be swapped. But Apple has a method to its madness.
First the
specs
:
Price: $2,799

17-inch widescreen LED-backlit 1920 x 1200, glossy display;
2.66 GHz Intel Core 2 Duo with 6MB shared L2 cache;
1066 MHz front-side bus;
4GB 1066 MHz DDR3 SDRAM;
NVIDIA GeForce 9400M integrated graphics;
NVIDIA GeForce 9600M GT discrete graphics with 512MB GDDR3 video memory;
320GB Serial ATA hard drive running at 5400 rpm, with Sudden Motion Sensor;
a slot-load 8X SuperDrive with double-layer support (DVD±R DL/DVD±RW/CD-RW) optical drive;
Mini DisplayPort for video output (adapters sold separately);
built-in AirPort Extreme® 802.11n wireless networking and Bluetooth 2.1+EDR;
Gigabit Ethernet port;
built-in iSight video camera;
three USB 2.0 ports;
one FireWire® 800 port (FireWire 400 compatible);
ExpressCard/34 expansion card slot;
one audio line in and one audio line out port, each supporting both optical digital and analog;
glass Multi-Touch trackpad and illuminated keyboard;
built-in, 95WHr lithium polymer battery; and
85 Watt MagSafe® Power Adapter.
Pre-order now for delivery in 3 - 4 weeks.
Now, about that battery. It's not silver / zinc as I thought might be the case, but Apple has made other improvements that not only give it a 1,000 charge lifetime (3x industry norm) but allow you 8 hours of life with integrated 9400M graphics and 7 hours with discrete 9600GT graphics.
And where do they get all the extra power? Well, since the batteries are non-swappable, they can use all the "wasted" space taken up by the battery pack and use it to form their custom-made cells, rather than cylindrical cells as most packs do.
Once again facing criticism on some front with regards to the greenness of their products, Apple went into great deal on the environmental-friendliness of the new MacBook Pro, citing EPEAT Gold certification as well as freedom from arsenic, mercury, PVCs, 34% smaller packaging, as well as the 1000-recharge battery.
And now
iTunes
. As rumored this morning, iTunes is indeed going DRM-free. 256 kbps AAC encoding, and you can even download OTA, without wi-fi, straight to your iPhone now. For those of you with existing iTunes tracks, you can "upgrade" them to iTunes Plus status (meaning DRM-free) for just $0.30 cents / song, or 30% of the album price.
Glad to see they didn't overlook the existing tracks that consumers have already purchased. It would have been so easy to leave them out. There goes any need for all those programs that strip DRM from AAC files (unless, of course, you'd rather not pay the $0.30 / track).
Eight million of iTunes' ten million songs are currently available DRM-free, with the remaining to be "cleansed" by the end of Q1 09. Make sure you note the "iTunes Plus" label to make sure the song / album is DRM-free, if you want to be sure about something you want to buy.
Pricing? Well, it is tiered, as I said earlier, but slightly different that I said. There will be $0.69, $0.99, and $1.29 tiers. It's unclear how exactly the tiers are determined, however, and the new tiered pricing does not kick in until April.
Based on what they are saying, it might take until April to get everything figured out; their
press release
says:
And beginning in April, based on what the music labels charge Apple, songs on iTunes will be available at one of three price points: 69 cents, 99 cents and $1.29, with most albums still priced at $9.99.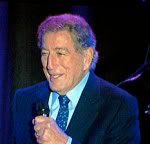 No Steve Jobs? No matter, it was still an interesting keynote. The music artist to close it out this time? No, not Jack Johnson, who is apparently the No. 1 selling male artist of all time on iTunes, but the all-time great, Tony Bennett. Impressive.
Though not as impressive as the changes to the MacBook Pro and iTunes.