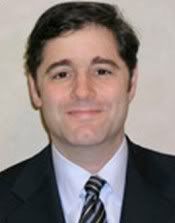 Citing sources close to the Obama transition team, the Wall Street Journal
reported
on Tuesday that President-elect Barack Obama has selected his technology adviser, Julius Genachowski to be the new head of the Federal Communications Commission (FCC).
Besides the fact that Genachowski's name will give fits to those of us not married to someone from Poland (cheap plug for my wife), at least in terms of
correct
pronunciation, the blogosphere is weighing in on his support of
net neutrality
, something many are
concerned
about.
Of course, we all enjoyed the current FCC chair Kevin Martin's
smackdown
of Comcast last year (all right, maybe just
I
did), it's also true that he pushed some unpopular things through, notably
media consolidation
, despite many, many objections to it, particularly on the local level as people turned out in droves at hearings, speaking against the idea.
Genachowski, 46, is a former Harvard Law School classmate of Obama's, worked at the FCC during the Clinton administration and is a former executive at IAC Interactive Corp. He helped draft Obama's technology plan, which includes support for creating more widespread and affordable Internet access, and more diverse media ownership rules, as well as expressing support for net neutrality.
One of his first decisions may involve the transition to digital TV: this is scheduled to take effect on February 17th, but Obama has
asked
Congress to consider a delay. Martin has already spoken
negatively
about such a delay.