We frequently use the customer reviews at Amazon.com when searching for a good product, but we might have to be a little more careful after this. It seems a Belkin Business Development Representative has been paying people for fake reviews, not just at Amazon.com, but at Newegg and Buy.com.
It begins at Amazon.com's own Mechanical Turk, ironically for Amazon.com, which we wrote about
previously
. It's a site where companies or individuals can pay users to do tasks best suited to humans. I've even made a few bucks off it myself. Well, a site called
The Daily Background
discovered that someone named Mike Bayard was offering $0.65 per positive (5/5) review for a
poorly rated Belkin wireless USB hub
(see image above, click to enlarge)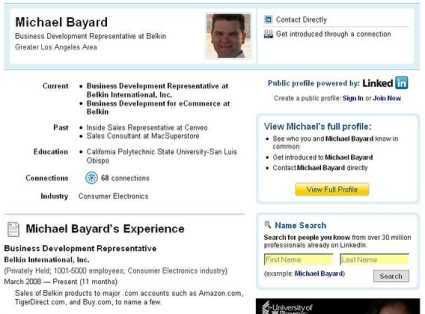 Whoops, definitely against the Terms of Service of any such e-tailer, and definitely unethical. However, Belkin or Bayard, one of them, is definitely good at covering their tracks:
The offers are gone
Bayard's

original

LinkedIn Profile is gone (image above, click to enlarge)

While the original LinkedIn profile discovered by The Daily Background is gone, there's a different one, for a
Michael Bayard
, which has the same info as above. Hmmm.
The question is, how high does this go? Was it all Bayard's idea? Or did it come from someone higher up? Hopefully, Belkin will be forthcoming with information, but this is going to tarnish their reputation.