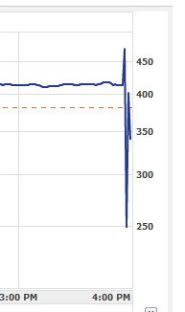 With the recent stock market turmoil, one has to hope people didn't look at what was happening to Google stock late today and assume it was just another stock tanking. Especially not when the price of the stock dropped to as low as $0.01 during trading just before market close.
Take a look at the image above to see the crazy activity just before the end of the day. Personally, if you didn't have an order in previously, you would have been nuts to try to buy into the stock at that price. It was obviously an error, and since NASDAQ was bound to (and has) adjust the price, who would have been able to predict what price you would get?
NASDAQ announced the following on their
site
:
Pursuant to Rule 11890(b) NASDAQ, on its own motion, has determined to cancel all trades in security Google Inc Cl - A "GOOG" at or above $425.29 and at or below $400.52 that were executed in NASDAQ between 15:57:00 and 16:02:00 ET. In addition, NASDAQ will be adjusting the NASDAQ Official Closing Cross (NOCP)and all trades executed in the cross to $400.52. This decision cannot be appealed. MarketWatch has coordinated this decision to break trades with other UTP Exchanges. NASDAQ will be canceling trades on the participant's behalf.
In short, the closing price of Google shares will be adjusted to $400.52. Trades will be adjusted as well.
As of the time of this writing, NASDAQ has offered no explanation as to the source of the erroneous orders. It also didn't indicate if there was a rise in heart attacks or fainting spells worldwide at around 4:00 PM EDT.