Earlier in the week I
wrote
about the massive security hole the iPhone (since then Apple has said it will be fixed in September, which is an update that will be full of fixes, such as
these others
).
Even without that hole, Pareben's
CSI Stick
(CSI stands for Cellular Seizure Investigation, not Crime Scene Investigation) makes things even more easier for those wanting to hack your info, at least for those with Motorola or Samsung phones.
As I said before, while some will discount the amount of information stored on a cell phone, as phones get smarter and smarter, more and more information is stored on them. And the information stored on a corporate smartphone is often considered sensitive by companies.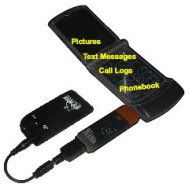 The CSI Stick is about the size of somewhat larger flash drive, and costs $199, but you also need either
DS Lite
or
Device Seizure
, two applications also by Pareben, to read the data. DS Lite costs $99; Device Seizure costs $895.
Device Seizure supports reading SIM cards with a SIM card reader, included in the (still additional)
Device Seizure Toolbox
($749).
According to the site, CSI Stick is used as follows:
Paraben's CSI Stick is THE portable cell phone forensic and data gathering tool. Paraben's CSI Stick opens the world of digital forensics to anyone needing to gather forensic grade data from cell phones. The process is simple:


Select the colored cell phone tip for the cell phone model to be acquired
Plug the portable power adapter into the USB end of the CSI Stick
Plug the CSI Stick into the cell phone
Select the data you wish to extract using the slider switch

Logical Copy - A logical copy gets all available active data (including text and multi-media files)
Text Filter - The text filter copies all SMS and text messages, phonebooks, and call logs
Multi-media Filter - The multi-media filter copies all available pictures and movies
Physical Copy - A physical copy gets all memory on the device (Please Note: This process can take many hours to complete)

Push the acquire button and wait for the completion indicator

Plug the USB end of the CSI Stick into a PC to be read by Paraben's Device Seizure or DS Lite

Paraben's CSI Stick acquires data that can only be read and analyzed in Paraben's Device Seizure or DS Lite. These advanced forensic analysis tools enable you to view, search, and report on data extracted from handheld devices. The CSI Stick currently supports certain Motorola and Samsung phone models with more manufacturer support coming soon.
Naturally the iPhone is on the short-list of models to be supported.
Unlike USB ports on a laptop (you may recall some companies went to the trouble of glueing closed those ports to eliminate the use of flash drives, and potential leaks), you could not glue shut the data ports on many phones, as they charge through the same ports.
With stuff like this around, does anyone still want a
wallet phone
?