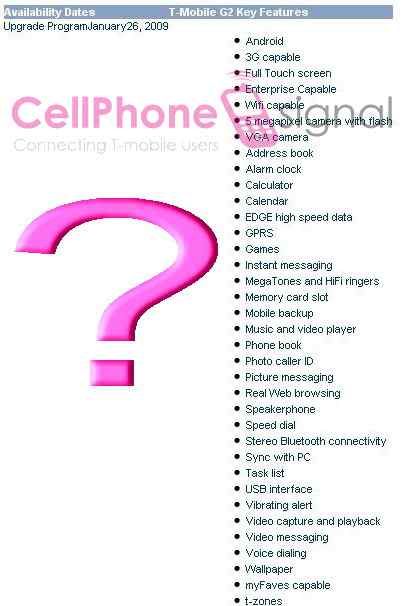 File this under the rumor heading with the word "iffy" next to it. However, if true, I'm sure you'd all be pretty interested in this, the T-Mobile G2.
The site
Cellphone Signal
says an anonymous tipster has given them this hot info. Now conspicuously missing is the phrase "QWERTY keyboard," while conspicuous in its placement near the top of the list of features is "Full Touch screen."
Of course, the Android
roadmap
says that soft keyboard support won't be added until Q1 2009.
The list also claims Stereo Bluetooth connectivity and Video Capture. Those would be features from the "Cupcake" release I wrote about
earlier
. Thing is, these changes were apparently merged not that long ago.
It also seems rather quick for a G2 to emerge. Not that it's impossible mind you. One other thing that makes me a doubter? The site involved didn't notice that it spelled "update" as "upadate" in this
headline
. Yeah, yeah, I know, I make typos too, but still ...