It was expected, and now it's been quantified. Holiday shopping was expected be dismal this season, what with the recession and all, and online shopping is no different. According to
comScore
, online retail spending for the holiday shopping season (Nov. 1st - Dec. 23rd, the last day to purchase online with the possibility of delivery by Christmas Eve) dropped 3% from 2007.
Despite a 15%
rise in sales
on Cyber Monday, sales dropped from $26.3 billion to $25.5 billion. According to comScore, the comparable days last year were Oct. 27th through Dec. 18th.
comScore chairman Gian Fulgoni said:
"The 2008 online holiday shopping season has declined 3 percent versus year ago, falling behind our expectation of flat sales this year. This marks the first time we've seen negative growth rates for the holiday season since we began tracking e-commerce in 2001. The combination of having five fewer shopping days between Thanksgiving and Christmas and the severe economic headwinds faced by consumers has made this a really tough season for retailers, both offline and online."
It's worse if you look at Q4 as a whole, according to comScore. It will be the first full quarter to report negative growth since comScore began tracking e-commerce, down 4% to $36.8 billion from $38.4 billion.
While sales were down, traffic was up, by 5%. Of course, traffic is not the same as sales.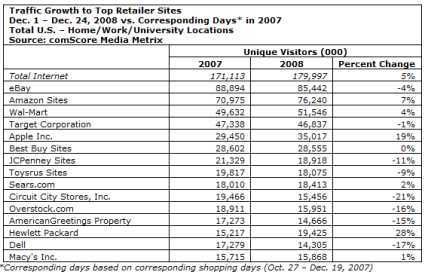 Winners in terms of traffic among individual e-tailers: Hewlett-Packard, with a 28% jump from last year; Apple (19%); Wal-Mart, (4%), and Amazon.com which, as I
wrote earlier
, said it had the best holiday season ever, with a 7% increase. Best Buy was flat from 2007.
All the other sites had drops in traffic, some major, like Circuit City which dropped 21% from 2007. Small wonder as it filed for
Chapter 11 bankruptcy
in November; many simply didn't want to take a chance on buying from Circuit City.
But other traffic losers were Dell (17%), and even eBay (4%). Just wait until we see overall retail numbers; I'm sure that will be far worse than this.