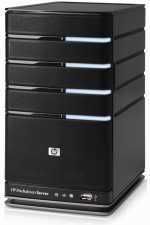 HP announced new versions of its MediaSmart Server on Monday which, acknowledging the inroads Mac OS X has made in market share, adds better support for Mac OS X, including support for OS X's Time Machine backup feature. This makes it the first 3rd-party hardware to support Time Machine.
Time Machine was one of the key features introduced in October 2007 with OS 10.5 Leopard. Of course, Apple had problems getting its own
Airport Disk
to work with Time Machine; let's hope HP has made a better first attempt.
HP's MediaSmart Servers run Microsoft's Windows Home Server operating system. The internals of the new ex485 (750GB) / ex487 (1.5TB) have been upgraded to Intel Celeron 2.0GHz CPUs and 2GB of DDR2 RAM from HP's original ex470 (500GB) /ex475 (1.5TB), which had AMD Sempron 1.8GHz CPUs and 512MB of RAM.
Compared to ordinary NAS devices which simply add storage to your network, these HP Servers come at a premium, there's no doubt about that. The ex485 is $599 and the ex487 is $749. In other words, you pay for all the functionality that you could, in fact, perform manually (or have other software perform automatically, rather than the server software).
In addition to Time Machine functionality, HP has also teamed with Amazon to provide an Amazon S3 managed online backup service. Of course, you could easily use a service like
Mozy
for your PCs, but most of those services don't work with NAS.
However, this is another way to suck the life out of any broadband caps you may (or may not) run up against.
HP has also added a free 5-year SSL certificate when you activate the remote access using the HP Personal option, eliminating the warning messages you used to see in your browser.
Finally, another feature of MediaSmart is remote MP3 streaming. However, when streaming over the web, the software transcodes MP3s at a 128kbps bitrate, to minimize any potential for choppiness.
BTW, if you run over to HP's site and check out their
whitepapers
, you might get confused. They haven't updated them and the information (like no Time Machine support) is old.
Features of note in the HP press release:
HP Media Collector: conveniently schedules the MediaSmart Server to copy and centralize digital files and libraries from networked PCs
Media Streaming: remotely streams photos and music to any Internet-connected PC or Mac
Server for iTunes: centralizes iTunes music libraries on the server for playback to any networked Mac or PC running iTunes
HP Photo Publisher: easily upload photos to Facebook®, Picasa™ Web Albums and Snapfish
HP Photo Viewer: allows easy sharing of photos with friends and family
PC Hard Drive Backup: backs up networked PCs via the Windows Home Server backup feature
Mac Hard Drive Backup: backs up Macs running Leopard using Apple Time Machine software
Server Backup: duplicates designated shared folders to a separate hard disk drive
Online Backup: duplicates designated folders to Amazon's S3 online backup service for an additional layer of protection
Smart Power Management: can schedule times for server to go to "sleep" and "wake up," saving on energy costs
Processor: Intel® Celeron®, 2.0 GHz 64-bit. Two gigabytes (GB) of 800-MHz DDR2 DRAM now standard on MediaSmart Server
Expandability: additional drives can be added for up to 9 terabytes (TB)
The HP MediaSmart Server can be pre-ordered beginning Jan. 5, 2009, from Amazon.com, BestBuy.com, Buy.com, Frys.com and NewEgg.com; it is expected to ship in February.