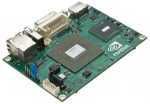 A report last week that stated that Intel would not unbundle the Atom CPU from its 945GSE and 945GC chipsets. If true, it would have been a major blow to NVIDIA's recently announced Ion platform, which combines the GeForce 9400 GPU with the Intel Atom CPU. However, a response from an Intel spokesman denies that assertion.
The rumor was started by
DigiTimes
, who said that it had been told by OEMs that Atom CPUs were only available bundled with Intel chipsets. However,
InternetNews.com
received an email from Bill Calder, an Intel spokesman:
"There is nothing preventing vendors from using the Ion platform. We sell Atom as a stand-alone processor, or as package with chipset."

Ion is obviously aimed at the netbook market and would compete directly with Intel's above-mentioned chipsets. The proof will be when we see the Ion platform in an announced product, I suppose.