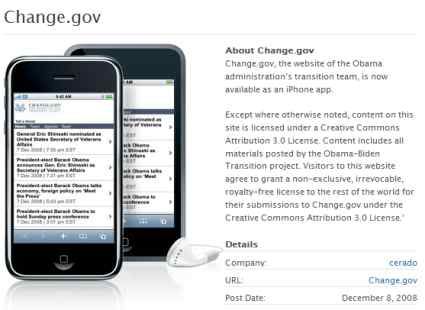 Barack Obama certainly used tech to his advantage during the 2008 Presidential Election, and he's not stopping there. Since the election, he has opened up his Change.gov transition site, added OpenID login for commenters, and changed the copyright license for the site to a much more liberal
Creative Commons license
. And last week, largely due to the Creative Commons license, an iPhone web app was released as well.
Just to be clear, this isn't an App Store app, but a web app. And it wasn't created by Obama's team, but by
Cerado
, using their Ventana service. And in all honesty, they also have a web app for other mobile devices, as well as a widget you can post on your site.
You can find all of them
here
.
Here's what Christopher Carfi, co-founder of Cerado, had to say on his
site
, about Creative Commons on Change.gov and the creation of these apps and widgets:
This opening up of the content on Change.gov has the stated intent that "anyone can take the policy points and discussions from the site and create their own remix or branch of it."

Thanks to this important step by the administration, we were able to create both mobile and widget versions of the site using Cerado Ventana.