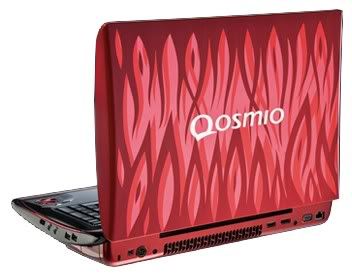 On Thursday, NVIDIA and Toshiba jointly announced the first laptop with three, count 'em, three NVIDIA GPUs. The new models added to the Qosmio
X305
line use
hybrid SLI
to use the integrated NVIDIA 9400M GPU during non-frenetic video use (i.e., not gaming), and switches to the dual NVIDIA 9800M GTS GPUs for ultra-FPS performance.
You may recall the 9400M was recently introduced in a high-profile notebook event by "
some company
."
The Qosmio X305-Q708 and X305-Q706 are available at Toshiba's
site
, and according to that site, exclusively at Best Buy as well.
Starting price: $1,999.
In an emailed press release, Carl Pinto, vice president of product development, digital products division for Toshiba America Information Systems, Inc. said:
"We wanted to deliver an extreme-performance gaming machine that gives gamers a complete, non-compromising system in a laptop form factor. The combination of the NVIDIA GPUs and chipset allowed us to achieve a high level of performance, quality and flexibility that our customers are asking for, at a competitive starting price of $1,999."
Of course, that's the "low-end" X305-706 price; really want to trick it out? The 708 will cost you upwards of $4,000. Besides everything you would expect from a notebook nowadays, both models come with 4 GB of DDR3 RAM, 17" widescreen LCDs, and the 708 comes standard with a 128 GB SSD.