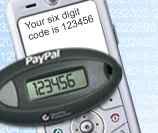 PayPal has added another form of two-factor authentication to their service. Two-factor authentication means you enter not just your username and password, but a code from, in general, some electronic device.
PayPal already had the Paypal Security Key Token, which is an electronic device (see above left) you carry, and which generates a new code every 30 seconds. However, you pay $5 for each Key Token device, so while it protects you ... well, cheapskates like me will eschew it.
Enter the PayPay SMS Security Key. You can get temporary security codes sent to your mobile phone by SMS. The advantage: it's free (aside from your normal text message charges). The disadvantage? Well, you've only got 30 seconds after the SMS to login ...
It's just another example how the availability of cell phones to most means that SMS is getting more and more usage, and in different ways.
If you want to activate it, just go this
page
. Both of these security keys will work with PayPals's parent company eBay, as well.