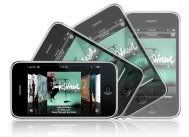 It's no secret that the App Store and features like the accelerometer built into the iPhone and iPod Touch open up worlds of gaming not seen before, particularly on a smartphone. But does that mean stand-alone portable gaming devices such as the PSP are passe? Depends on who you ask.
In an
interview
, Apple's vice president of iPod marketing Greg Joswiak pretty much dissed the PSP and Nintendo DS, while declaring the iPhone the "future of gameplay."
In his interview with T3, Joswiak (BTW, why is an iPod marketing exec speaking about the iPhone?) said:
"And the gameplay I think has surprised a lot of people, because it's not just the casual games. There are real 3D games, and it's hard to imagine we're only a little over 100 days into it. There are already so many games and as we look at it, to us it really seems this is

the future of gameplay

. Whereas a lot of these devices [Nintendo DS and Sony PSP] are more in the past. And a big part of that is not just the device itself, which is easier to carry, and has the touch display and accelerometer which is great for gameplay, but it's the electronic distribution of the apps as well."
Joswiak went on to tout electronic delivery via the App Store vs. physical delivery for other platforms as part of the advantage of the iPhone.
While it's certainly too early to write off the PSP and DS ... and while it's obviously the job of an Apple exec to pimp his company's products, market research firm The NPD Group reported on portable entertainment device usage this week.
The report,
Portable Devices
,
said
that the application category with the greatest increase in use over the last quarter was ... yes, games.
According to the report, more smartphone owners are playing games than using business related applications on their device. Smartphone usage is still highest for their primary purpose which are the communications features including making and receiving phone calls, and sending and receiving email or text messages. Among iPhone users specifically, the application with the greatest increase in use over the last three months was playing games.
Still, don't count out dedicated portable gaming consoles. There's nothing like a dedicated device; an all-purpose device can become like a Swiss Army Knife, but a dedicated one will usually perform better at its sole purpose. And --- there's no way Sony and Nintendo would give up without a fight --- and finally, they're definitely looking into digital distribution for their devices as well.